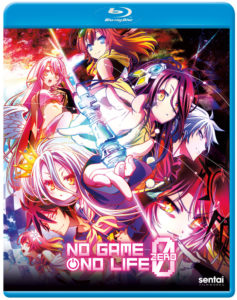 Title: No Game No Life Zero on Blu-ray
Director: Atsuko Ishizuka
Studio: Madhouse
U. S. Distributor: Sentai Filmworks, Section 23
U. S. Release Date:  Aug. 28th, 2018
Format: Feature Film / 105 Minutes / Blu-ray
Genre: Fantasy
Age Rating: TV 14
Overall Personal Rating: A-
Synopsis:
No Game, No Life Zero is the prequel movie to the anime series.
6,000 years before Sora and Shiro rocked the world of Disboard, black rain falls from the sky and multiple species fight a desperate battle for survival. Constantly caught in the crossfire between the more powerful magical races, Humanity is on the edge of extinction, always on the retreat. But amidst the chaos and destruction, one young man, Riku, has a vision of a better future. And the first step towards achieving that goal comes in a dead city, where he encounters Schwi, an exiled female android who seeks to know one thing: what it is to have a human heart.
The mysterious past of the world of Disboard is unveiled and the ultimate game begins in the spectacular prequel to the hit TV series!
Commentary:
No Game, No Life Zero manages to do something the series failed to do, win me over. The original series seemed to obsessed with Sora and Shiro relationship. In Zero it was exactly what it needed to be. It manages to setup the world in a way that makes sense. Of course you have to believe that gods are petty and could become fixated with ruling it all through war.
No Game, No Life Zero gives us rich full characters who care and are sympathetic by nature. Not weak and pitiful characters you want to hate from the moment you meet them.
Overall Grade: A-
I loved the concept and execution along with 90% of the animation production quality. There is still that pink and blue pallet that dominates after about half way through the film. The thing about pink is that it is by nature a psychotic color that does not impart clam and beauty, but rather nervous tension. Blue on the other hand does create a natural calm state, but when it is heavily paired with pink there is not much peace.
The characters of Riku and Corounne are very well written and easy to like. They provide us with a pair of humans that you want to rook for. Add a cold yet somewhat loving Schwi then you have a trio that makes sense. You want them to win and can only hope for the best.
No Game, No Life Zero is not the No Game No Life many know and love, but rather it is something better. It happens to be one of the best prequel anime movies I have ever seen. I only wish the series was this good.