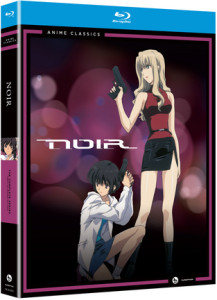 Title: Noir: The Complete Series Anime Classics on Blu-ray
Director: Koichi Mashimo
Studio: Bee Train
U.S. Distributor: Funimation Entertainment
U.S. Release Date: April 14th, 2015
Format: DVD /Blu-ray / 650 minutes / 26 episodes
Genre: Action,  Adventure, Girls with Guns
Age Rating: TV 14
Overall Personal Rating: B+
Similar Titles: Madlax, El Cazador de la Bruja, Gunslinger Girls
Can ones past ever be forgotten and is it possible to completely deny ones Fate? If love can kill the surely hatred can save!
Synopsis:
Noir is the story of three female assassins who are drawn together because of their unknown past and through their partnership they discover the truth to their existence. Mireille Bouquet is the first of these women we meet, she is a powerful assassin for hire and works outside the bounds of any organization. She receives a strange e-mail that leads her to the next of these women, Kirika Yuumura. Kirika is a teenage girl who has no recollection of her past but does possess something that has meaning to both Mireille and her past. Mireille notices it right away and takes Kirika under her wing with a simple vow, once they discover the truth she will kill Kirika.
In their quest to find the truth they discover who is behind everything, it is an ancient group know as Les Soldats ("The Soldiers"). This hidden group have their fingers into all walks of life and see Mireille and Kirika as targets and continue to have them killed. This become more and more difficult and finally these two come into contact with the third assassin, Chloe. Chloe turns out to be both a friend and a foe who has a critical part to play in the outcome of this journey of discovery.
Commentary:
Following the Girls with Guns genre set forth by classics like Bubble Gum Crisis and Dirty Pair, Noir provides something a little more involved. The psychological drama that plays out between these strong women is the real power of the series. This is also highlighted by the minimal graphic violence shown in the series. There is very little splattering blood and most to the time you only see a hole in a victims clothing to evidence that have been shot. The emotional bond built between these women is the point and even thought Kirika and Chloe have rather monotone personalities there are those underlying emotions that as they surface have the most impact.
Honestly it has been a real pleasure visiting this older series that laid the groundwork for some more recent series that are also sure to be classics such as Gunslinger Girls and Phantom: Requiem of a Phantom. In the case of Phantom it is very easy to see the connection that Koichi Mashimo brought to it based on what we see in Noir. The loss of soul or should I say the implied lack of emotion that the girls possess is at the center of these heavy dramas and Noir displays it in a much darker fashion.
The artistic stylings may be a bit dated but it was standard TV animation for 2001 and it does a splendid job of convening the essence of the series but it does also tend to lead to some rather flat moments, but overall it fits well with the story. The music and soundtrack is much better suited for the series and both the opening and closing songs frame the series well.
Overall Grade: B+
This series proves that it has all the making of the classic moniker that has been bestowed up on it and also provides a solid drama for all those fans of the darker side of life.
When Koichi Mashimo made Noir he had the trilogy planned out and it wasn't until 2007 that he was able to complete it so you should check out both Madlax and El Cazador de la Bruja. But, if you really enjoy this style of story then you should also see Gunslinger Girls and Phantom; Requiem for a Phantom.