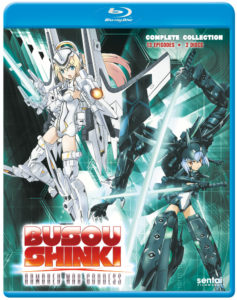 review provided by Andrew & Katie
Title: Busou Shinki-Armored War Goddess: The Complete Collection on Blu-ray
Director: Yasuhito Kikuchi
Studio: eight bit
Author: Masahiro Yokotani
U.S. Distributor: Sentai Filmworks/Section 23
U.S. Release Date: February 14th, 2017
Format and Length: DVD / 13 Episodes / 300 Minutes
Genre: Action, Science Fiction, Slice of Life
Industry Age Rating: 14 and up
Overall Personal Rating: B-
Similar Series or Titles to Check Out: Angelic Layer, Rozen Maiden, and Chobits
Juggling four girls at once is never easy, even when they are small enough to actually juggle!
Synopsis:
Some guys wait their entire life, and then some, to meet the girl of their dreams, but high school freshman Rihito is already living with four of them. Plus, they are almost always ready and willing to help him with whatever difficult task their "Master" needs to be handled. So, how did Rihito get to be so darn lucky? Well, while Hina, Ann, Ines and Rene may not be exactly high maintenance, Rihito does have to make sure they are lubricated regularly and recharge their batteries as needed. He does this because they are Shinki—tiny, six-inch tall, customizable androids (Now would be a good time to get your mind out of the gutter.) But do not let their tiny size fool you because these little ladies have more than full-size intelligence and emotions, there is also friction because each one would prefer to be Rihito's favorite. Make way for the sparks that are going to fly as these battery powered princesses take charge of Rihito's world.
Commentary:
Busou Shinki-Armored War Goddess: The Complete Collection is an anime series that was produced as an advertisement for the Shinki action figures and as such it is an original storyline written for said figures. With that being said, I thought Busou Shinki-Armored War Goddess: The Complete Collection was an average Slice-of-Life anime. The story follows the four Shinki as they perform their daily chores and the trouble that they always find themselves in. You can watch any episode after the first one and it will make almost perfect sense. Being as this was an advertisement there was not much character development but you do get to see an example of each Shinki by the end of the series. Rihito basically treats his Shinki as if they were human and the Shinki take really good care of him. Basically the Shinki are depicted as cute, tiny androids living in an apartment in the middle of Tokyo.
As for character development, there is none. Rihito is basically seen as a generic avatar that the target audience can relate to. Ann is the caring character who is pure of heart, Rene is the clumsy big sister, Ines is the tsundere character who is mean but cares deep down inside and Hina is the cool loner girl who cannot relate to the rest of the cast. I basically saw every overly done character type in one anime. I did enjoy the Christmas episode though because it showed how much the Shinki care about Rihito and at the same time it showed how much Rihito loves his Shinki.
Extras:
Busou Shinki-Armored War Goddess: The Complete Collection includes Japanese promos, clean opening and closing animations, and Sentai Filmworks trailers as special features. This series is available in Japanese language with English subtitles.
Overall Grade: B-
Busou Shinki-Armored War Goddess: The Complete Collection was produced as an marketing tool for the Shinki figures and I have been noticing this has been the case for a few series created around this time. When I began watching the first episode I was expecting this series to be pretty good as it reminded me of Angelic Layer and I really enjoyed that series. Within a few episodes I realized that while this series has potential it was never expanded on and really leaves something to be desired.