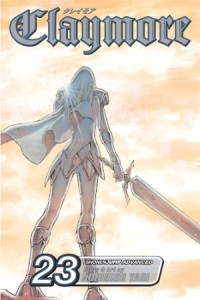 Claymore 23: Mark of the Warrior
Creator: Norihro Yagi
U. S. Distributor: Viz Media
U. S. Release Date: October 1st, 2013
Format: Manga / Paperback / 200 pages
Genre: Fantasy, Action, Supernatural
Age Rating: T+ for older teen
Overall Personal Rating: B+
Synopsis:
Rebel warrior Miria penetrates the headquarters of the secret Organization that created her, discovering the appalling truth about Yoma. Meanwhile, human warrior Raki joins the Claymores on the battlefield and seems closer than ever to his goal of reuniting with Clare, his Claymore companion. Yet the cycle of violence cannot be stopped – an epic battle is brewing and Priscilla, a powerful force for evil, is back in the fight!
Commentary:
With so may years gone by Raki has grown up to be a rather tough looking man. I was very happy to see him rejoin the series and especially happy about the way he came back to prove himself. It was rather a redeeming moment for his character. It is also great to have Clare back in the action. I was beginning to worry that the one real core element to the series was lost in the overflow clutter in the previous few volumes. Getting these plucky warriors back to the main plot is important and now that the three main characters are reunited (Clare, Raki and Priscilla) things can begin to take shape and work toward a conclusion.
The thing about Claymore that makes it work so well is that issue of making these women so fierce yet at the same time so human. They know that they are on the path to losing their humanity and they more than anyone work so hard to protect humans.
It is a little of a shame that the plot is beginning to reveal some of the secrets about the Claymore and as they open the curtain to reveal the truth I am finding it to be a little disappointing, but it is still entertaining.
Overall grade: B+
I guess that the one thing that holds this volume up for me it the reuniting of Raki and Clare. Funny thing is that it isn't as touching as I would have expected. Claymore still has its essence, but as we move forward the reality of who and what they are is taking a little of the shine off the warriors.
This still a series that holds plenty of action and adventure and with the way things are shaping up it looks like the coming volumes will have plenty to offer.