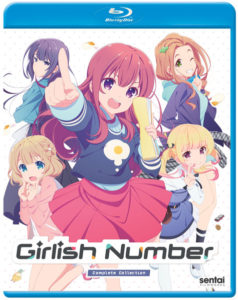 Title: Girlish Number: Complete Collection on Blu-ray
Director: Shota Ibata
Writer: Wataru Watari
Studio: Diomedea
U. S. Distributor: Sentai Filmworks, Section 23
U. S. Release Date: March 6th, 2018
Format: Blu-ray / 12 Episodes / 300 Minutes
Genre: Comedy, Slice of Life
Age Rating: TV 14
Overall Personal Rating: C
Synopsis:
Chitose Karasuma wants to make it big as a voice actor, but while she looks and sounds adorable, she's also self-absorbed, inattentive, selfish, and lazy. However, since her manager is also her big brother, she's still getting bit parts and dreaming of landing the big role that will make her famous.
Unfortunately, karma bites Chitose in the worst way possible when her big chance finally arrives, because the producers who've hired her are even more clueless than she is! Now, she's trapped in a nightmare production where nothing goes right, the ratings are in the toilet, and swimsuit photos and live stage shows take priority over making quality programming! Can Chitose and her fellow trapped actresses turn things around and save their careers? Or will they all go down with the sinking ship?
Commentary:
I am always a sucker for a fun easy slice of life anime and Girlish Number fits the bill. Of course you have to navigate through all of the silliness to get to some meaning. In the case of Girlish number you are given a look into voice actors and their approach to dealing with other voice actors. Most of them are rather fake about how they portray themselves and at times it becomes a little annoying. Chitose is one of the biggest offenders of this fake persona which  is my main problem with the series.
Overall Grade: C
Girlish Number peeked my interest because of my affection for these types of Slice of Life anime, but in the end it fell a little flat for me. I was thinking that I would find some connection with Chitose and what I found was something much different. I ended up siding with the more seasoned and crass voice actors who did not hide their feeling or persona the way Chitose did. Of course we did get to see who she really was, but it took some time and several episodes of cringe worthy character development.
The overall production values of the series are high enough to help keep the viewer entertained and they followed the tried and true artistic stylings of most girl centered slice of life anime that made it pleasing to watch. The one area that I was really disappointed with was the writing , but of course it may have been too real to make me want to enjoy the story. From the incompetency of the producer and director to the general lack of motivation of the production staff and the off putting personalities of the voice actors I found the series difficult to get into.
If what you want in an anime is a look at the voice acting world and some of the trouble with anime production then Girlish Number is right up your ally.