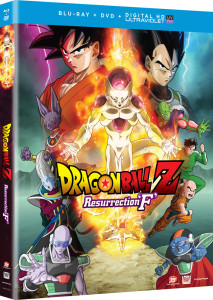 Title: Dragon Ball Z: Resurrection 'F' Movie
Director: Tadayoshi Yamamuro
Studio: Toei Animation
U. S. Distributor: Funimation Entertainment
U. S. Release Date: October 20th, 2015
Format: Blu-ray / DVD/ 95 minutes / Feature Film
Genre: Fantasy, Shonen, Action, Adventure, Supernatural
Age Rating: TV PG
Overal Personal Rating: C-
Synopsis:
Dragon Ball Z: Resurrection 'F' is the second Dragon Ball film personally supervised by the series creator Akira Toriyama, following Battle of Gods. The new movie showcases the return of Frieza – one of the anime world's greatest villains. Frieza has been resurrected and plans to take his revenge on the Z-Fighters of Earth. Goku and Vegeta must reach new levels of power in order to protect Earth from their vengeful nemesis.
Commentary:
Sparkling Blue and Golden are sometimes not what you think they are, but in this case it is not surprise. Dragon Ball Z: Resurrection 'F' gives up a strange colorful greatest hits for this never-ending series. I think it is interesting that Akria Toriyama supervised this film because it has serious reminders of the endless battles that took place and that fact that there was a mindless movement from fight to fight.
Dragon Ball Z: Resurrection 'F' brings back Frieza with the intent to make us all remember how great the series was back in the early seasons, but there is a problem with that. Frieza is most notably the weakest of all the enemy and also nowhere near as interesting as the others. I get the nostalgia, but why not extend the story rather than back track.
Overall Grade: C-
Dragon Ball Z: Resurrection 'F' is one of those films that was great for proving that anime is not dead and that people can get sucked into almost any thing with the title Dragon Ball Z. I have to say that the most disappointing aspect of the movie was the heavy handed Computer Graphics. I would have thought that the production company (Toei Animation) would have been able to a better job of giving us a film with a clean slick style of anime rather than a hard edged inexpensive CG rendering of the iconic characters.
Anyway I doubt if there is anything I can say that is going to make a difference in the minds of those rabid DBZ fans out there, but I have a feeling that there are some fans that will see that they missed the mark with this one. It is also very disapointing to have it become one of the highest grossing anime theatrical release in the U S. I guess it says a lot about what makes it into theaters and how much money is spent on marketing. Well, if you are looking for almost 2 hours of Dragon Ball Z nostalgia then this one if for you.