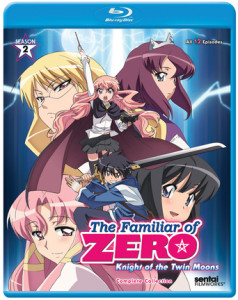 review provided by Katie and Andrew
Title: Familiar of Zero, The: Knight of the Twin Moons-The Complete Second Season
Director: Yuu Kou
Studio: J.C. Staff
Author: Noboru Yamaguchi
U.S. Distributor: Sentai Filmworks, Section 23
U.S. Release Date: March 10, 2015
Format and Length: Blu-ray / 12 Episodes / 300 Minutes
Genre: Comedy, Fantasy, Action, Adventure, Magic, Romance, School, Harem
Industry Age Rating: 14 and up
Overall Personal Rating: A-
Similar Series or Titles to Check Out: Familiar of Zero, The, Toradora!, and Shakugan no Shana
Synopsis:
Louise the Zero and Saito are back in Familiar of Zero, The: Knight of the Twin Moons. However Saito has distinguished himself as a hero with Louise has started to get a handle on her Void magic. Saito is also Louise's familiar of his own free will, but has that made any difference in their "professional" relationship?
Let's just say that their relationship could be a ride at Six Flags because it is so full of ups and downs such as that perfect romantic moment and messy explosions. However, that does not mean they are not ready to spring into action the moment Queen Henrietta is kidnapped. With this new war brewing, will they be able to find a way to work together that does not end up with Saito getting the wrong end of Louise's magic wand? Or will Louise still end up hurting the one person besides her family that she cares about? You will have to watch Familiar of Zero, The: Knight of the Twin Moons and find out for yourself.
Commentary:
I really believe that the Tristain Academy of Magic needs to invest in bomb squad, or build things much, much stronger. Familiar of Zero, The: Knight of the Twin Moons continues where season one left off, however this season seems to be more aimed at character development. There are still parts that are very easily predicted but they are occasional. The plot mainly focused on the relationship between Saito and Louise, the ongoing war with Albion, and Agnes' story.
Agnes is the Captain of the Tristain musketeers in service of Henrietta. She is a military woman who loves her discipline. She hates Mages, especially fire Mages, with a vengeance. Apparently fire Mages burned her village to the ground when she was a child and she is the only survivor. Most of the episodes for this season focus on this and Agnes getting her revenge on the Mages who burned her village to the ground.
The relationship between Saito and Louise is interesting to say the least. Saito is his same perverted self and Louise does not put up with it at all. She seems to instantly know when he has a perverted thought and makes him pay for it. You would think he would eventually learn, but he does not. The character development has much more depth in this season with a few new characters and significantly more family back story for both new and old characters alike. We also meet the rest of Louise's family and I fully believe that they might be the cause for her magic being like it is.
The art was just as beautiful as the first season. The backgrounds were very colorful and the characters were drawn well. The voice actors did an amazing job and you really connect with the characters thanks to them. The opening and closing animations were well done and the music was catchy. There is quite a bit of fan-service as Saito is a pervert, but there really is not anything too over the top.
Extras:
Familiar of Zero, The: Knight of the Twin Moons-The Complete Second Season includes clean opening and closing animations and Sentai Filmworks trailers as special features. This series was released with Japanese with English subtitles as the only language option.
Overall Grade: A-
I truly enjoyed watching Familiar of Zero, The: Knight of the Twin Moons and I cannot wait for the third season to be released by Sentai Filmworks. I would recommend the entire Familiar of Zero series to anyone who enjoys the fantasy genre.