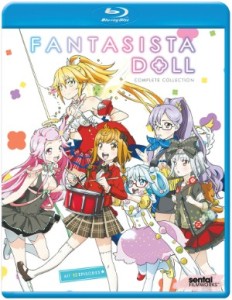 Review Provided by Andrew &Katie
Title: Fantasista Doll: Complete Collection
Director: Hisashi Saito
Studio: Hoods Entertainment
Author: Noboru Kimura and Yuko Kakihara
U.S. Distributor: Sentai Filmworks / Section 23
U.S. Release Date: August 12, 2014
Format and Length: Blu-ray / 12 Episodes / 300 Minutes
Genre: Action, Comedy, Fantasy, Magic, Sci-Fi
Industry Age Rating: 14 and up
Overall Personal Rating: C
Similar Series or Titles to Check Out: Angelic Layer, Rozen Maiden, Cardcaptor Sakura, and Busou Shinki
Synopsis:
No one really knows what life has waiting in the cards for them, but for Uzume Uno, the surprises are not just in the cards but also in what comes out of them. Uzume finds herself in possession of a mysterious deck of cards through a strange twist of fate. She is surprised to find that five magical girls known as the Fantasista Dolls materialize and by playing the cards in different combinations, she can equip the girls with an array of costumes and weapons. That comes in extremely handy when a new danger that only the Dolls can stop is coming to threaten the Earth. With the future of the entire world on her shoulders, Uzume is going to have to learn how to play the hand she has been dealt pretty quickly. Will Uzume be able to deal with the Dolls' odd demands and save the world at the same time? You will have to watch Fantasista Doll: Complete Collection to find out.
Commentary:
Fantasista Doll: Complete Collection is a very cute and moe anime series. I believe that tween and teen girls will love this series even with the age rating. The only thing that makes it the age rating is that the dolls have body paint on under their outfits and go around like that for a good part of the series and there is a little bit of fan-service. Those pluses aside, Fantasista Doll: Complete Collection does have some problems. The dialogue between characters does not flow well most of the time and they jump between the other plot line and the main plot line in the middle of an episode. I wish that they would have spent an entire episode on one plot line and went to the other plot line in the next episode. I believe that would have made things a bit smoother.
Uzume Uno is an interesting character. You learn that she has experience in playing card games. She had decided to give up playing card games though because she felt it was time to grow up. I believe that dealing with the dolls actually helped her become more mature and also helped her realize that she cannot try to solve problems on her own. Her Fantasista Dolls are pretty cute. Sasara is the first doll to appear to Uzume and she makes the contract. Katia is the childish doll and she is amazingly cute. Shimeji is the least trusting doll of them all as she misses her previous master. Madeleine is the tallest doll who is always ready to help out her master and she also plans out battle tactics. Akari is the little loli doll. She is also amazingly cute and uses yo-yo's as her weapon of choice. If I had to choose my favorite doll it would have to be Katia because she is just too cute and adorable.
The artwork is really nice especially as the outfits and hairstyles are unique and reflect on each characters personality. The artwork was also very colorful and nice to look at. The voice actors did a good job bringing the characters to life. The battle sound effects were great and the music was okay. It sounded like J-Pop so if you like that type of music then you will enjoy Fantasista Doll: Complete Collection's music. The only other thing I have to complain about is that there are credits from Sentai after each episode and it gets old after a while. I really think that they could have just put that at the end of the series and the episodes would have flowed better. But that is a small thing and might not bother other people.
Extras:
Fantasista Doll: Complete Collection includes clean opening and closing animations, Sentai Filmworks trailers and disc credits as special features. Fantasista Doll: Complete Collection is only available in Japanese with English subtitles in this release.
Overall Grade: C
Fantasista Doll: Complete Collection is a good series, especially if you enjoy the Magical Girl genre. Just make sure to never make a contract with a random magical being that appears at just the right time.