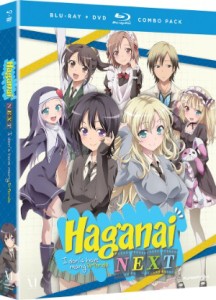 review provided by Andrew and Katie
Title: Haganai: I Don't Have Many Friends NEXT-The Complete Series
Director: Toru Kitahata
Studio: AIC Build
Author: Yomi Hirasaka
U.S. Distributor: Funimation Entertainment
U.S. Release Date: May 13, 2014
Format and Length: DVD/Blu-Ray Combo Pack / 12 Episodes / 300 Minutes
Genre: Comedy, Romance, School, Harem
Industry Age Rating: 17 and up
Overall Personal Rating: B+
Similar Series or Titles to Check Out: Mayo Chiki!, Oreimo, The Melancholy of Haruhi Suzumiya, Toradora!, and Haganai: I Don't Have Many Friends
Maybe I do not realize I have friends…
Synopsis:
Kodaka and the rest of the gang from the Neighbors Club are back and up to their same tricks again in Haganai: NEXT.  From friendship to romance, things get a little more serious in Haganai: NEXT. New feelings are shown and the relationship between Kodaka and Yozora, Sena, and Rika reaches another level. How will Kodaka deal with that because he has never been in a situation like this before? Will he be able to face these new feelings and say what he really thinks about the girl or will he just run away. You will have to watch Haganai: NEXT to find out.
Commentary:
Haganai: NEXT continues where the first season left off, as the Neighbors Club is up to its usual antics. But it's a little different from the first season. Haganai: NEXT focuses more on character development more than anything else, putting the comedy part of this romantic comedy as more a second concern than a primary focus. The story line is kinda episodic at first, mainly revolving around the activities of the Neighbors Club, but does start to come together after a few episodes and is not as disjointed as the first season. It also focuses on the characters actually dealing with their feelings instead of making fun of each other with the massive use of innuendo, sexual jokes and sexual harassment. Haganai: NEXT is a bit more serious than its predecessor, but humor is still a highly prevalent theme of the series. Haganai: NEXT is a fun anime and you can get caught into it making it very easy to absorb.
Haganai: NEXT did a wonderful job with character development and those developed characters endear you to this series more than ever. Of all the characters in Haganai: NEXT, Rika is the one that grew the most. Throughout the entire first season Rika played the part of the science nerd and acted very perverted because as she says, she would be a boring person if people only thought of her as the genius girl. In Haganai: NEXT the changes to her character begin slowly. Her hairstyle is changed at first and it takes Kodaka a couple of episodes to notice and then she begins to cosplay different anime characters to see if he notices the changes in her. Eventually she confronts Kodaka because she notices that he was just playing ignorant to the feelings of herself, Yozora, and Sena. It is very clear that Rika is the only one in the club who knows the most about Kodaka's feelings and fears. By the end of this season, she finally has a friend for the first time in her life. Rika seems to be coming into her own personality now instead of focusing on how people want her to be. I also really like Kobato's character. Kobato is Kodaka's younger sister that he takes care of while his father is away working. She attends the middle school that is attached to the high school, Saint Chronica's, and was able to join the Neighbors Club. She has a penchant for darkness, vampires, and the macabre and usually dresses as her favorite character from the anime "Full Metal Necromancer" that exists in the series unless she is at school. She also seems to have a brother complex due to her jealous behavior and clingy ways whenever she feels slighted because her brother, or An-Chan as she calls Kodaka, is not giving her the attention she believes she deserves. However, she is so adorable that you cannot help but say aww.
Once again for this season the voice actors and actresses were amazing. They really bring the characters to life along with the awesome art. The eyes of the characters are so big that you feel they can see right into your soul and draw you into the series. I really hope that there is a third season or a four to six episode OVA to wrap up the series. The ending was left wide open and a conclusion would be nice.
Extras:
Haganai: NEXT includes commentaries for episodes 7, 11, and 12, "Black Dragon: The Cries of the Damned," clean opening and closing animations, Blu-Ray and DVD spots, T.V. Spots, U.S. Trailer, and Funimation trailers as special features.
Overall Grade: B+
Haganai: NEXT is an enjoyable anime that shines light on the characters from the first season and adds a few new ones. After watching Haganai: NEXT I feel more connected to the characters than after watching the first season. There is not as much fan-service as the first season but there is some. I loved the romance element in this season as well as the comedy.