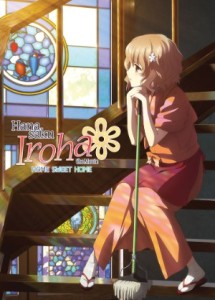 Title: Hanasaku Iroha: Home Sweet Home the movie
Director: Masahiro Ando
Writer: Mari Okada
Studio: P. A. Works
U. S. Distributor: NIS America
U. S. Release Date: Oct. 14th, 2014
Format: Blu-ray / Feature Film / 66 Minutes
Genre: Slice of Life, Coming of Age
Age Rating: TV 13
Overall Personal Rating: A-
Synopsis:
In the days before the Bonbori Festival, Ohana's friend Yuina comes to Kissuiso for training. While cleaning up after her, Ohana discovers a logbook kept by Beans from when her mother, Satsuki, was still a youth at Kissuisso. Through the logbook, Ohana catches a glimpse of her mother's struggles, and realizes that maybe the two of them aren't so different after all. Meanwhile, the rest of the inn staff are caught up in dealing with a blackout.
Commentary:
In a continuation of the series a this simple little film manages to keep in line with the same strong sense of self and family that the original series gave us. Although this may be a simple story that just gives us a glimpse into how a girl discovers how much she has in common with both her mother and grandmother there  is so much more conveyed. The ability to reach out cross the divide and touch each of us with a sentimentality that is most often tossed away and make us feel both glad and sad about our own connection is something very special. It is seen in other series like Anohana: The Flower We Saw That Day, Air and even Kanon, but in Hanasaku Iroha it is brought forth by using family connections that tell of both love and rebellion. This might just be more faithful to what most families go through than what is seen some of the other series.
For Home Sweet Home I found it to be come together slowly. At first I was confused by what I was watching and once the plot was drawn out it made sense. I guess that I enjoyed the confusion, but would have rather it not be presented in quite this way. As the story progressed I was pleasantly surprised how it did manage to give us some meaningful interaction with several of the other characters other than Ohana, her mother and grandmother. That was one aspect of the original series that I enjoyed a great deal and getting to spend some time dealing with Minko and Nako who have just as important roles to play in the life of the story as Ohana.
The animation was slick and at times I found the hard edge of CG out of place with the softness of the characters and some of the background. Overall it was beautiful. The writing stood on its own merits and prove that the story is the thing that makes the series.
Overall Grade: A-
If you haven't seen any of the Hanasaku iroha series, I strongly suggest it before you watch the movie. I not saying the move could stand on its own, but I think have some historical background about the series and characters will help it be that much more enjoyable.
If you are looking for a heart warming film that both reaffirms our own struggles with our past and the connections we have with family the Hanasaku Iroha: Home Sweet Home is a film that you will love.