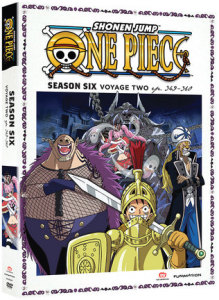 Title: One Piece Season Six Voyage Two
Director: Hiroaki Miyamoto
Original Creator: Eiichiro Oda
U. S. Distributor: FUNimation
U. S. Release Dates: Nov. 18th, 2014
Format: DVD / 12 Episodes / 300 minutes
Genre: Fantasy, Action,  Adventure, Shonen
Age Rating: TV14
Overall Personal Rating: B
Synopsis:
Luffy's impulsive attack on Gecko Moria ends up costing the rubber-man something he can't live without – his shadow! When Zoro and Sanji find themselves in the same boat, the three fierce fighters must find a way to recapture what was lost, or face the possibility of death by sunlight. Luckily, their skeleton friend, Brook, knows the trick to defeating Moria's zombie army, and he'll gladly share the secret in exchange for a little help defeating a sinister zombie samurai!
Meanwhile, Nami is kidnapped by an undead scoundrel who wants to make her his wife, and Usopp must rely on his natural state of negativity if he hopes to survive his encounter with a gothic Lolita and her ghostly minions. Hair-raising thrills are the story of the hour as the Straw Hats attempt to escape Thriller Bark with their shadows – and souls – intact!
Commentary:
Hey everyone here's Brook! For a series as long as One Piece there is rarely introductions of recurring characters and this one little grouping provides maybe the best thing that has happened in the series in a long time and that is Brook. He is a funny strange character that provides even more humor to this silly show.
As with the rest of the One Piece series I can't say that this is a standout or anything special. The story feels like an endless string of filler arcs that really don't go anywhere. The humor is still the main focus of the series and with the introduction of Brook there is a brief improvement of the quality of comedic relief, but all in all it is a silly series that just keeps going.
Overall Grade: B
One Piece is one of the longest running series and it has a simple formula and sticks to it. The artistry of the series doesn't stand out. The depth of the subject matter doesn't even exists. The warmth and loving personas of the characters has never developed. There really isn't much that this iconic series has to offer other than it is just silly. So, if looking at Season 6 voyage 2 I have to say that it does a decent job of providing humor and even a little stranger and sillier than usual. My only real question is how long can it go? Personally I would like to see it go the way of Dragon Ball Z and just focus on the movies because I find them much more entertaining.