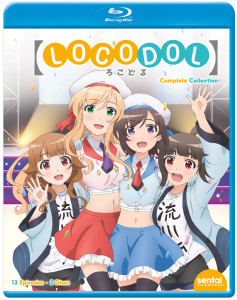 Title: Locodol
Director: Munenori Nawa
Author: Kotaro Kosugi
Anime Writer: Yuniko Ayana
Studio: Feel
U. S. Distributor: Sentai Filmworks, Section 23
U. S. Release Date: January 19th, 201
Format: Blu-ray / 13 Episodes / 325 Minutes
Genre: Comedy, Idol, Slice of Life
Age Rating: PG
Overall Grade: B+
Synopsis: 
Some cities spend millions to draw in tourists, but a small town like Nagarekawa doesn't have those resources. What it DOES have is Nanako, whose dream of becoming an idol singer is suddenly given life when she and fellow classmate Yukari are recruited by her uncle (who serves on the city council) to become local idols. That means performing at the openings of swimming pools and appearing on the smaller local TV stations, so it's not the glamorous lifestyle one sees in the movies. But it is a way to help her city and neighbors while doing something she cares about. And when Nanako and Yukari are joined by a third classmate, the petite but athletic Yui, who takes on the task of appearing in costume as the town mascot, everything really comes together.
They may not be on the road to fame and fortune, but there's plenty of fun to be found ahead as they become Locodols!
Comemntary:
Locodol is a wonderful entry anime for the younger viewer. It is light and happy. The only drawback is that it is only released with sub-titles. For myself and many fans this is not an issue but for the hunger viewer they will loose interest very fast having to read and miss the action going on around the text. I know that many people will take exception to this comment, but those who do don't understand that a 10 years old might want to get involved in reading and watching at the same time but they quickly come to realize that they are missing something. In 2015 there were several title release that fell into this category and I hope that 2016 doesn't miss the opportunity to find some new fans by spending a little more and providing a English dub. Of course I am sure that plenty of copies will sell to the Idol fans that love cute girls in happy series that just give you a smile
when you watch.
Overall Grade: B+
For Locodol the animation is average and honestly it gave me very similar feelings that K-On! did when it first released. I am not sure what it is about naive school girl anime, but the simple pleaser of watching something that doesn't leave you sad or complexly disturbed is in itself a wonderful thing. I for one would love to see more anime produced that gives a smile rather than a bloody mess.
Locodol provides more than enough smiles and gives a peek into the world of a teenage girls who want to be idols and yet are somehow able to maintain a small town ego. I recommend this for all younger viewers who are looking for a positive series. I do get very tired of the bloody messes that keep getting pumped out, but then are are many silly series getting tossed out there too. So, if you are looking for a simple series that will just make you feel good by watching it then Locodol is for you.