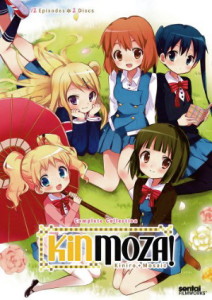 review provided by Katie and Andrew
Title: KinMoza! Kiniro + Mosaic: Complete Collection
Director: Motoki Tanaka
Studio: Studio Gokumi
Author: Yuniko Ayana
U.S. Distributor: Sentai Filmworks / Section 23
U.S. Release Date: August 26, 2014
Format and Length: Blu-ray / 12 Episodes / 300 Minutes
Genre: Comedy, School, Slice of Life
Industry Age Rating: 14 and up
Overall Personal Rating: A-
Similar Series or Titles to Check Out: K-On! and A-Channel
The British are invading Japan once again.
Synopsis:
Shinobu Omiya loves anything and everything English. While still in middle school, Shinobu had the amazing opportunity to join an exchange program and was able to study in England. Funny thing, she still has problems in her high school English class. The daughter of the family she stayed with in England, Alice Cartelet, decides that it is her turn to study abroad so she comes to Japan to attend high school. Hilarity ensues once Alice meets Shinobu's friends Yoko and Aya. Then Alice's friend, Karen, shows up and nothing will ever be the same again. Will Shinobu be able to pass her English class? Will Alice and Karen find their place in the Japanese high school? You will have to watch KinMoza! Kiniro + Mosaic: Complete Collection and find out.
Commentary:
KinMoza! Kiniro + Mosaic: Complete Collection is a very heartwarming anime that brings entertainment and relaxation to its viewers. It is a funny, yet entertaining show that anyone can and will enjoy. However, you will not find any fan-service or complex storylines in KinMoza!, but do not let that keep you from watching this amazing series. The first episode is a little weird and full of Engrish, but do not be frightened as it is not how the rest of the episodes are. The story line flows well for being a slice-of-life anime and the art reminds me of Kiki's Delivery Service, especially the scenes set in England.
KinMoza! mainly focused on five characters. Those characters include Aya, Karen, Shinobu, Alice and Yoko. Of those characters, I would say that Shinobu and Alice are the main characters with the other girls being a close second. Shinobu, or Shino as her friends call her, is your normal 15-year old air headed girl who is extremely fascinated with foreigners, especially blonde girls. She can get into loads of trouble unless someone looks after her. She dreams of being an interpreter, but she needs to pass English first. Alice is your typical blonde moe loli that likes Shino. Alice is probably the most level headed people in the group, although she finds herself embarrassed when she is in strange situations. Yoko is the energetic and loud big sister of the cast and is described as a convenience store by Karen because of how dependable she is. Aya is bright and graceful but is also timid and shy occasionally. She displays tsundere tendencies towards Yoko. I also think she is in love with Yoko. Finally, Karen is the other English transfer student. She is a half-British and half-Japanese girl who is very energetic, almost more than Yoko. She is also very outgoing and not afraid to show her emotions. Karen loves to make Alice jealous by saying that she loves Shino more than her. That makes for some very interesting scenes.
KinMoza! shows the everyday lives of these five friends that are filled with humorous situations. The characters are drawn so well that they jump to life off the screen and the seiyuus, or voice actors, did an amazing job on making you love these characters. I am so happy that the slice-of-life genre of anime is coming back around because you really can get drawn into the series if you enjoy the characters.
Extras:
KinMoza! Kiniro + Mosaic: Complete Collection includes clean opening and closing animations and Sentai trailers as special features. This series was released with Japanese with English subtitles as the only language option.
Overall Grade: A-
KinMoza! is one of the most enjoyable animes I have seen in a while. If you enjoy anime series that are the cute girls doing cute things genre then you will love KinMoza!.