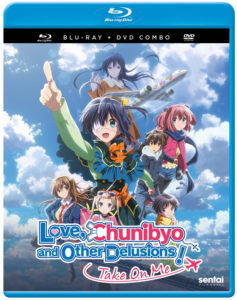 Title: Love, Chunibyo & Other Delusions! -Take On Me-
Director: Tatsuya Ishihara
Studio: Kyoto Animation
U. S. Distributor: Sentai Filmworks, Section 23
U. S. Release Date: November 20th, 2018
Format: Blu-ray, Feature Film, 94 Minutes
Genre: Comedy, Slice of Life, Romance
Age Rating: TV 14
Overall Personal Rating: A
Synopsis:
Yuta and Rikka may have finally started to come to terms with the various delusions that have run their lives, but as their relationship becomes progressively more real, their development as a couple seems to be increasingly in danger of stalling out! When your relationship is partially the result of a series of fantasies, what can reality serve up that's equal to the make-believe?
Rikka's sister decides that she's going to move to Italy and take Rikka with her, and the solution that Rikka and Yuta decide on is both improbably logical and unrealistically practical: They're going to elope! For real! Get ready for the ultimate fantasy road trip as our two young would-be lovers take off a whirlwind tour of the real Japan in Love, Chunibyo & Other Delusions! -Take On Me-
Commentary:
Love, Chunibyo & Other Delusions! -Take On Me- takes us further along in the saga of Rikka and Yuta which finally gives us some real closure on their relationship in ways that make total sense and feel very natural for such an absurdist type of romance anime. Honestly, the struggle for these characters to deal with their chunibyo is worth the watch and at the same time begin to understand that the real world has a great deal to offer.
This installment of the series points us to a bright future for everyone and allows us to continue to like everyone for who they are and not what others might want them to be. Yuta may just be the only one that understands this more than anyone but he also appears to be further along on his road to maturity than the other, especially Rikka.
The real fun to the film is the way they all interact to help Rikka and Yuta evade Toka. The beauty is that there is a symmetry to everything that goes on and a blast of humor that does not deny the original series.
Overall Grade: A
I am often worried when I come across short films that could be nothing more than toss of money grabs for a series. In the case of Love, Chunibyo & Other Delusions! -Take On Me- it is clear from the very beginning that the intent is to tell even more of the store and find a wonderful stopping point for the story. Now I can't be sure that the series is done with this film, but I would not be disappointed if it is. I feel like I can believe that they will all be fine as they mature and that Rikka will grow into a beautiful person who maintains a rich fertile imagination that will blend perfectly with Yuta's pragmatism.
For all the fans of the series I know you will not be let down by Love, Chunibyo & Other Delusions! -Take On Me-.