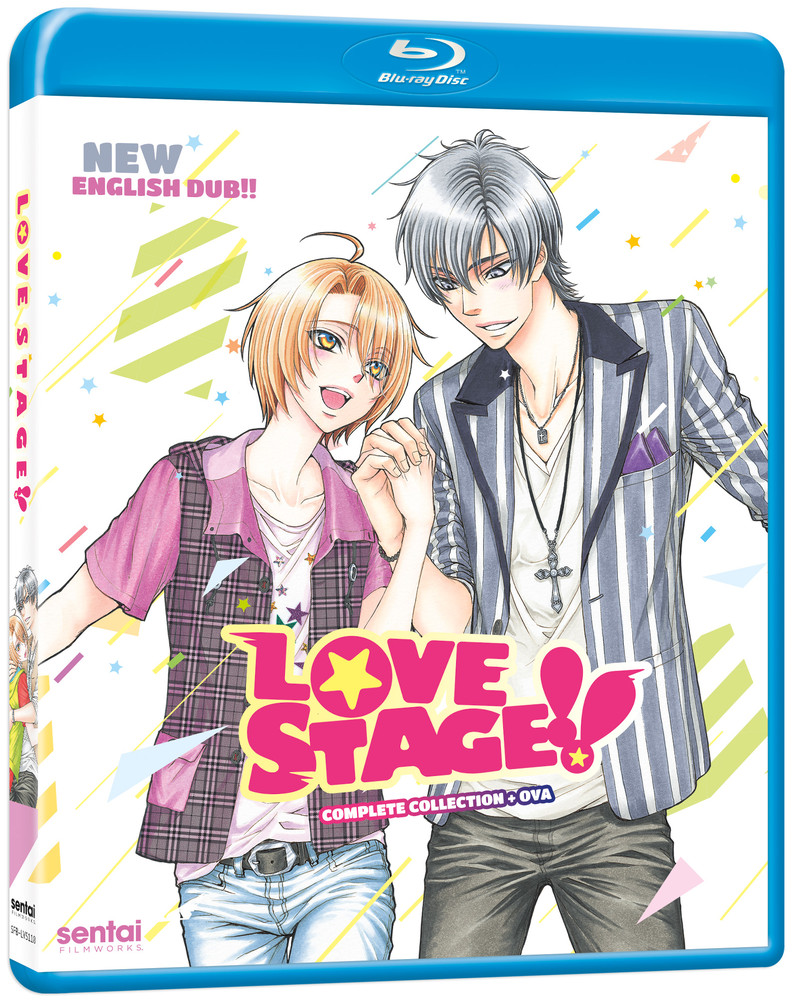 Title: Love Stage Complete Collection
Directed By: Kenichi Kasai
Original Work: Eiki Eiki, Taishi Zaou
Animation Production: J. C. Staff
U. S. Distributor: Sentai Filmworks
U. S. Release Date: 07/30/19
Format: Blu-ray / 10 Episodes + OVA / 275 Minutes
Genre: Yaoi
Age Rating: TV MA
Overall Personal Rating: B
Synopsis:
Izumi was born into a show biz family. His parents are both actors which put them into the situation that starts our story. While doing a commercial for a wedding magazine, there was a problem with the actress who was to play the flower girl. They pulled little Izumi to stand in, dressing him up like a little girl. And was he ever cute! The little actor playing the ring bearer, Ryoma, got a big crush on "her", and kept her in his heart.
Now it is ten years later and the magazine is doing an anniversary commercial and wants the same actors involved, this time having the grown up ring bearer and flower girl be the groom and bride…What? Izumi doesn't want any part of it. He doesn't want to be an actor, he wants to be a manga artist, besides, he's a guy! Well, his family pushes him into doing the commercial. He is dressed up in a beautiful wig and gown.
Ryoma is thrilled to see his love again and after the wedding kiss, he professes his love to his commercial bride. Well, however flattering, Izumi is revealed to be a guy and things sort of go badly. But still Ryoma can't stop his feelings for Izumi. Can they at least be friends?
Commentary:
Love stage is a fun BL anime, with many of the typical elements of yaoi story telling that fans are looking for. Ryoma is the hot rising star, a few years older and very sexy. Izumi is the cutie guy who can easily be mistaken for a girl. With traditions ideal of romance and dating women, they resist the love and passion that they begin feeling for each other.
This version is a re-release with a new English dub. I usually prefer English dubs to subtitled, and that is how I watched most of this show, but towards the end, some of the voices just got on my nerves. Way too squeaky, like a mouse on Saturday morning cartoons. Easy fix, I just watched the Japanese language version. I don't understand why some of the English voices were so exaggerated, that element was not part of the Japanese voices.
There is many things that work well in the series. The visuals were good, the depictions of the settings were given a bit of artistic expression that I enjoyed. The characters had their own style and developing personalities, even the support characters. Izumi's brother was too bravado, but seemed to support the story at necessary times. The comedy was cute, especially at the beginning. The manga club was also a humorous touch.
All in all, Love Stage is a cute romance series for the yaoi fan. It goes farther in the OVA in case you might be looking for a little more action and love.
Overall Grade: B Love Stage has all the elements to be a successful BL anime.
Best Quote: "He said if I didn't find you, I was Brown Bread. I don't really know what that means but he made it sound really bad."