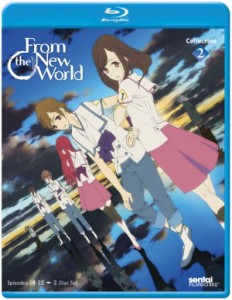 Title: From The New World Collection 2 on Blu-ray
Director: Masashi Ishihama
Writer: Masashi Sogo
Studio: A-1 Picture
U. S. Distributor: Sentai Filmworks / Section 23
U. S. Release Date: Aug. 12th, 2014
Format: Blu-ray / 13 Episodes / 325 minutes
Genre: Sci Fi, Romance, Supernatural, Drama
Age Rating: TV 14
Overall Personal Rating: A-
Synopsis:
Still reeling from the deaths of her friends and the revelations of the Ethics Committee's machinations, Saki returns to the village expecting the worst. However, what she's learned so far barely touches on the edges of an even vaster conspiracy. As she discovers the fate the committee intends for her personally, she realizes that her own mind is being turned against her.
With her memories of Shun fading, she and Satoru find themselves in a race to find Maria and Mamoru before the Committee condemns them to destruction. But the clock is turning against them in more ways than one, as the smoldering conflicts between the rat colonies threatens to erupt into open warfare. As pivotal pieces in a deadly endgame designed to wipe an entire species from the face of the planet, it's not going to be enough for Saki and Satoru to merely survive. To lead the best laid plans of both rats and men astray, they'll have to uncover the final secrets to two hidden worlds and turn them against their makers!
Commentary:
For all of you that seen the first collection then this should be helpful. For everyone how have not seen any of From The New World, I would recommend reading the first review and also checking out the collection for yourself. Now for those of you that are wanting to hear more about this complicated series the best I can say for it is that it is still complicated and at the same time emotionally fraught with dilemma after moral dilemma. From The New World takes on the next evolution of humanity in several ways and at first you think it is all about the plight of the 5 main characters but after a while you realize that it is more of an indictment of the hubris that mankind has carried through the millennium.
There is so much I would like to say, but for me to be direct I would spoil it and that is not my intent. As collection 2 starts we see two of the group forced to leave their home and the events that follow leads us to believe that they have set out for some great adventure that if all things go even half way right we would see them again later in the series. We then jump 12 years and the two remain members of group 1 have taken their place among the village. Things begin to take new and strange paths and the next thing you know the entire world is up for grabs.
The real twist to this story is that it sets us up to believe one thing and then gives us other option to ponder and in the end they were all false paths and the moral imperative becomes a full blown commentary on the folly of our species. Of course this narrative was discusses early in the first few episodes, but it wasn't clear at that time how important that topic of discussion would be until we reach the fill few minutes.
Overall Grade: A-
From The New World is a series that take some getting used too and with the depiction of the mutant mole rats it is hard to take it too seriously. I think that is both its failure and great deceiver. The animation style leave you not giving much serious thought to what is going on and then by the time you understand what is really happening you are fooled and twisted around. I'm not say that the series is confusing, it keeps things moving in a way that makes you believe that you understand what you are watching and this was possibly my greatest delight in the series.
The character development ended up being secondary to the story and it proved to be less important than I thought it was going to be. I'm not trying to imply that the main characters are not fully developed, but rather this development is all part of the ploy that keeps the series going. Ok, I guess that I've made everyone believe that From The New World is a fantastic series that twist you around and leaves you asking some great impossible question. That is not what I am trying to imply, rather I found the series rather simple in its approach and straight forward with the storyline, what is great is the way that the real plot is finally revealed and how it elves you questioning how great humanity is even with all our higher intelligence and abilities we are still part of nature and all too often forget who and what we are.
So, if you are looking for a series that will entertain and keep you coming back for more by its where nature with a final twist that ends up holding the mirror up to us all. Then you will find From The New World something you will need to experience.