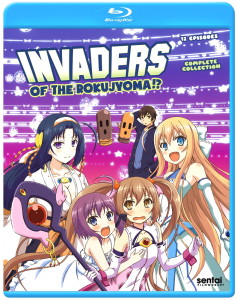 Title: Invaders of the Rokujyõma!?: Complete Collection
Director: Shin Õnuma
Music by: Zero-A
Studio: Silver Link
U. S. Distributor: Sentai Filmworks, Section 23
U. S. Released Date: Nov. 17th, 2015
Format as reviewed: Blu-ray / 12 Episodes / 300 Minutes
Genre: Fantasy, Moe, Seinen, Harem
Age Rating: TV 14
Overall Personal Rating: C
Synopsis: 
When Kotaro Satomi discovers an apartment for the ridiculously low rent of 5000 yen a month, he knows there must be a catch. But it's not until AFTER he's moved in that he finds out that he's not the only one laying claim to Room 106 at Corona House, starting with teenage girl ghost, Sanae, who's currently haunting it!
Still not enough to break the lease? Let's add in a Magical Girl, Yurika, who wants to take control of the room in order to block its powers from evildoers, a luscious Subterranean bombshell, Kiriha, who needs the room to launch an invasion of our world, and a fiery space princess, Theiamillis, who… well, you get the idea. Can a lone high school student on a limited budget withstand the combined forces of the supernatural, metaphysical, subterranean, and alien worlds? Especially when they're all also incredibly adorable?
Commentary:
Kawaii, oh so very Kawaii. Invaders of the Rokujyõma!? is so very Kawaii, but that is where the fun stops. IN the world of harem anime I would have to place this series in the lower half. In many ways it was a homage to the genre and offered plenty of parody to many of the great harems, unfortunately it missed the mark. I think the problem was that it tried to hard  and came off a little bland with the plot and the story devices that drove the series as a hole.
Overall Grade: C
Invaders of the Rokujyõma!? lacks the punch that would make it stand out. The characters are easy to like and at times less aggressive than they should be. They are almost shadows of what they should be. I can't say that any one of them stood out and all together they gave enough charisma to make the series enjoyable but not great.
Simply put is you are hooked on harem anime and need a fix then Invaders of the Rokujyõma!? is the show for you. You will get plenty of the 4 to 5 way love triangle mess you can handle. There is also a full spectrum of anime girls involved to make you question which type of anime girl is the best.
Invaders of the Rokujyõma!? an easy watch with several funny situations. If it was better written and the characters more compelling it would have rated much higher.  I would have loved to be Kotaro Satomi, he had it better than he thought.