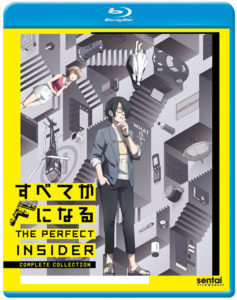 Title: The Perfect Insider
Directors: Mamaru Kanbe
Writer: Toshiya Ono
Music: Kenji Kawai
Studio: A-1 Pictures
U. S. Distributor: Sentai Filmworks, Section 23
U. S. Release date: October 25th, 2016
Format: Blu-ray/ 11 Episodes / 275 Minutes
Genre: Drama, Suspense, Murder Mystery
Age Rating: MA
Overall Personal Rating: A-
Synopsis: 
For most people, finding a dead body on their vacation would mean the vacation is over. However, for Souhei Saikawa, a professor of architecture, and his student Moe Nishinosono, a math prodigy, it's a different kind of challenge.
Genius programmer Shiki Magata, one of Souhei's idols, is inexplicably murdered inside the sealed research lab she disappeared to after being found innocent of her parents' murder. As Souhei and Moe take the first steps into a deadly new world, they must untangle the complex web of events and clues leading up to the murder. With danger creeping up around them, this may be the last mystery this pair of human anomalies attempts to solve in THE PERFECT INSIDER!
Commentary:
It has been a while since I have enjoyed a murder mystery like The Perfect Insider. From the very first episode I was hooked. I had no idea what was going on but the characters were coming at me in a strange and intriguing direction. I found the plot development rather satisfying with plenty of open question that needed to be answered and most were covered as the series progressed.
The Perfect Insider is a great and refreshing anime after see the market flooded with magical power and fan service anime. I like most of the new series but there has become a series lack of great dramas coming over to the North America. This is where The Perfect Insider stands out. It doesn't waist your time with frivolous fan service or make our characters magically powerful, it takes a group of people and places them in the middle of a rather confusing and disturbing situation.
Overall Grade: A-
The Perfect Insider does almost everything a great dramatic anime does. It provides a tense mystery with plenty of dark under pinnings. Some of those darker elements put me off a bit, but I understand why they were there.
The animation work perfectly with the story. It is slick enough to make it easy to concentrate on the story and tosses in some well done CG (computer graphics) to provide the eye candy when needed. It help a hard enough edge and color palette that helps keep the focus on the story and the characters. Often you will have anime blast you with bright colors and overly stylized environment to hide the fact that the story is week. The Perfect Insider manages to keep you focused on the story and the character. The only weakness I saw was that there was a lacking of emotion showing in some of the characters faces when important information was discovered.
If you are looking for a strong mature drama with a great ending then you really need to check out The Perfect Insider. One word of caution, this series is not for younger viewers it does contain some rather unpleasant imagery and plot topics that are not suitable for minors.