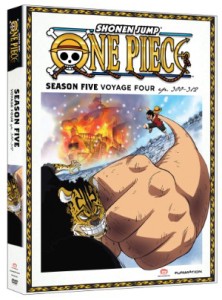 One Piece Season Five Voyage Four
Director: Hiroaki Miyamoto
Original Creator: Eiichiro Oda
U. S. Distributor: FUNimation
U. S. Release Dates: Dec. 3rd, 2013
Format: DVD / 12 Episodes / 300 minutes
Genre: Fantasy, Action / Adventure, Shonen
Age Rating: TV14
Overall Personal Rating: B-
Synopsis:
Luffy pours his heart and soul into the battle to keep his nakama together!
The assault on Enies Lobby reaches a boiling point as Spandam drags Robin towards the towering Gates of Justice! Zoro's demonic nine-sword fighting style sets the stage for a blistering barrage of heroic attacks as the Straw Hats inch ever closer to a joyous reunion with their captured crewmate. The showdown between Luffy and Lucci rages out of control against a backdrop of devastating destruction thanks to Spandam's Buster Call.
While the rubber-man trades blows with the most powerful assassin of CP9, his mates need help from below to avoid a watery grave. Explosions rock the horizon, Luffy's giant attack sends him down for the count, and the unexpected return of an old friend represents the last glimmer of hope for our heroes!
Commentary:
As with most of these series that just go on forever it is sometimes hard to move the story forward when they get stuck in battles that are bogged down in the battle of the best. With Luffy and Lucci stuck in a battle that doesn't look like either one can win the episodes feel like they are just beginning to sink in the mud of overwriting the series. Oda does manage to save this volume by getting them out of this dilemma. The only problem is that with the story taking so long to save Robin it becomes way to easy to toss in a large amount of irrelevant  stuff that not only drags the series down but also makes it hard to stick with.
The one saving grace about this group is that Luffy is indestructible and he proves it here. The battles are a lot of fun and when Usopp steps in to save the day for Robin it is wonderful to hear is goofy announcer voice come to life. There are also plenty of other fine moments in these 12 episodes that will keep you laughing and watching with amazement as this strangely addictive series moves thought its paces.
Overall Grade: B-
The thing about One Piece and voyage four is that it provides some movement and does so without too much of the dreaded flashbacks. I often feel like the one great failure in these long series is that they feel like they need to regurgitate the past for every major and minor character that we come in contact with and One Piece is not afraid to hold back in that area. Some times it is great to understand what someones motivations are but all to often these flashbacks are just filler and real waist of time. Ok, now we are on the final tread of this arc and maybe just maybe voyage 5 will bring it home.