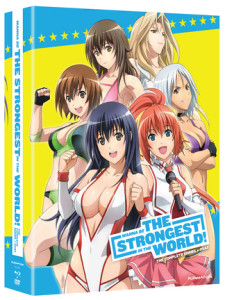 Title: Wanna Be the Strongest in the World complete series
Director: Rion Kujo
Studio: Arms
U. S. Distributor: Funimation Entertainment
U. S. Release Date: June 2nd, 2015
Format: DVD / Blu-ray / 300 minutes / 12 Episodes
Genre: Echii (serious fan service), Sports (not really), Comedy
Age Rating: TV MA
Overall Personal Rating: C-
Synopsis:
The eye-popping world of women's professional wrestling is sweaty, sadistic, and savagely sexy. Famous Japanese pop idol Sakura Hagiwara is better suited for the dance floor than the wrestling ring, but this ravishing songstress is about to put her body to the ultimate test.
When she and fellow idol Elena are assigned to pose as wrestlers for a very special show, a vicious lady brawler by the name of Rio decides to teach the girls a lesson they won't soon forget. Rio unleashes a flurry of ferocious of attacks on Elena, contorting her divine female form into an array of very naughty positions. Shocked by the blush-inducing beating taken by her friend, Sakura vows to get her heavenly curves ready to rumble and redeem the good name of idols everywhere by becoming a bona fide diva of the pro-wrestling world!
Commentary:
It has been some time since I sat through a series of this caliber, but Wanna Be the Strongest in the World should be called Boobies on Parade. There are plenty of series out there that try to blend a story with fan service and may of them succeed. In the case of of Wanna Be the Strongest in the World the plot is so simple it just tells you from the very beginning that it will be all about showing the exaggerated female form off.
Now I don't have anything against wrestling or even pop idols. I just take issue with anime that is only in the game to show off their sexual body parts. There is also the typical attempt to make the female anatomy unbelievably over inflated and this too ends up turning me off. As someone who was educated as an artist I love the human form but the way it is depicted in WannaBe the Strongest in the World just makes me sad.
Overall Grade: C-
As a reviewer I have to take into consideration who the audience in mind is and that is why I did not fail this series completely. I understand the intent and the specialized demographic that Wanna Be the Strongest in the World is going after and that is why I gave it a C- rather than a D- or an F. In fact I would think that the fans that they are making this for will most likely give it an A for the level of echii/Fan Service that is provided.
I wish I could have at least enjoyed the plot line of the series but it was just too mean spirited and misogynistic for me. That is the world of anime and it covers plenty of genres and I can appreciate it for what it is. I know this series will be liked by its fan base.