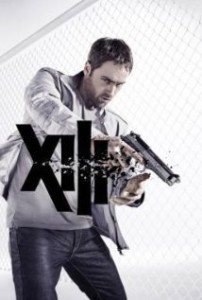 Title: XIII
Staring: Stuart Townsend and Aisha Tyler
Produced By: Prodigy Pictures and Luc Besson's production company
U. S. Distributor: Giant Ape / FUNimation (Group 1200)
U. S. Release Date: Sept. 16th, 2014
Age Rating: TV 14
Genre: Thriller, Spy, Espionage
Overall Personal Grade: B
Synopsis:
Agent XIII was left to rot in an Eastern European prison with no memories of his past or hope for his future. After a high-stakes breakout, he finds himself immersed in a network of spies and special agents as he attempts to figure out if the man he used to be was a patriot or a monster. Along the way, he uncovers a global conspiracy reaching from the Oval Office to the prisons of Venezuela involving plans for a weapon that could forever change the balance of international power. But when you're a rogue agent on the run from both government agencies and terrorist cells, is there anyone you can really trust?
Originally airing on broadcast on Reelz in 2012-2013, XIII-The Series also aired in Canada and France.
Giant Ape Media will release the series in two parts on DVD on September 16, 2014.
Commentary:
This special early review of XIII is based on the first 3 episodes of the series. I realize that that is not much to go on, but in this case it is enough to understand where it fall in the world of spy thrillers. Typically we don;'t see to many spy thinners hit the small screen or even come in a full 26 episodes. We almost always see them on the big screen and made into an action packed block buster. XIII is clearly action packed but because of its format it certainly does not rate as a block buster. Based on what I saw the production level matched well with a lower budget tv series set to air on one of the lower numbered cable channels. This doesn't mean that it poorly made it just means that the production quality does not always do the series justice.
As for the acting, I am a fan of Aisha Tyler and her comedy has alway been top notice, but in XIII I felt like she left something at the door. It is obvious that her character had feeling for Agent XIII but she doesn't let that show through when it would make the most sense. In other words I felt like she came off flat. As for Stuart Townsend I found him to have much more pronounced ups and downs. In some of the quitter moments I could really confect with his character and his whole struggle with his identity, but when his character became more active and involved he seemed to leave the set and just let his shell go through the motions. I guess he elves me rather ambivalent about the staring role.
Now the story is cool and the plot live seem to want to give us a lot to think about and in the first three episodes I found myself wondering what is really going on. Is this a conspiracy against the President of the US or is this some corporate plot to hide the deep dark truth about something they did. I just don't know and in some ways just don't care. I guess that I will need to see the rest of the series to understand what is going on. I did find this to be one of the best series for live action fight scenes especially early one when XIII takes on the woman spy who helps him break out of prison. I found it to be somewhat believable and almost honest. There were only one or two moments when I thought any real human would be on the floor swimming in the see of black fog because they were utterly unconscious. Other than that most of the action was rather typical spy thriller hero action where the good guy can take a bullet and keep going, but the minions  even smell a bullet coming their way and they are flat on the found.
Overall Grade: B
XIII is a action packed series and it brings on the fight scenes to keep things going. I feel like the plot is coming off a little convoluted and confusing but very entertaining for what it is. As for the acting, this is where I have my biggest problem. I can honestly say that the two main stars are the weakest of the bunch. The strongest acting in the first three episodes was by Caterina Murino who played Samantha, XIII's love interest and helper. She brought some feeling to her role that helped give focus to Townsend's character and also provided him an opportunity show some feeling too. If you are looking for a fun action packed spy thriller that has some rather deep layers , then you need to check it out when it comes out.