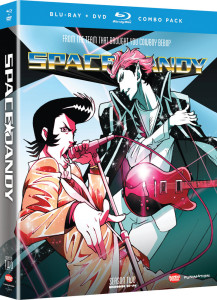 Title: Space Dandy Season 2
Director: Shinichiro Watanabe, Shingo Natsume
Studio: Bones
Producer: Square Enix
U. S. Distributor: Funimation Entertainment
U. S. Release Date: September 22, 2015
Format: DVD / Blu-ray / 13 Episodes / 325 Minutes
Genre: Sci Fi, Comedy, Absurdity
Age Rating: TV 14
Overall Personal Rating: B
Synopsis:
Space Dandy is a dandy guy in space! This dreamy adventurer with a to-die-for pompadour travels across the galaxy in search of aliens no one has ever laid eyes on. Each new species he discovers earns him a hefty reward, but this dandy has to be quick on his feet because it's first come first served! Accompanied by his sidekicks, a rundown robot named QT and Meow the cat-looking space alien, Dandy bravely explores unknown worlds inhabited by a variety aliens. Join the best dressed alien hunter in all of space and time as he embarks on an adventure that ends at the edge of the universe!
Commentary:
Space Dandy Season 2 upholds the insanity that started off on the first half of the series and takes you to another level of both stupidity and confusion. To say the least I found myself enjoying this group of episodes much better than the first group. Even with the story taking on so many strange turns and nonsensical events that I finally was able to connect with several of the strange group of characters and almost wanted to see two of them finally find the love they were searching for.
In this second group of 13 episodes I did discover a side of Dandy that didn't turn me off and also made it easier to watch. The absurdity that follows in almost every episode kept me scratching my head and made me want to kept watching. I also enjoyed all of homage and parody to Anime and the silly Sci Fi world we all live in. It remixed me of some of the humor from Stein's Gate but never really gave any focus to how the story wove together. Space Dandy is one of the shows that you can get everything you need from one or two episodes and even after watching all 26 episodes you may still never figure out what it was all about.
Overall Grade: B
I have to say that the last 13 episodes felt much more put together and polished, and at the same time had very little focus. I had many laughs and enough confusion with what was going on to leave me wondering and interested enough to stick with the show. It is truly a strange series with plenty to make you smile.
The true strength of the series is the animation. I saw plenty of work that reminded me of Red Line and also a short anime clip in the live action film A Taste of Tea. The fast movement and colorful blend of color does several things for the series, It keeps the action fresh and also makes everything very lively. There are several episodes that employ a flatter more muted color pallet but the artistic aesthetic keeps the anime fresh and very easy to watch. Over the history of anime there have been many series that employ several different art styles and some of them like Samurai Champloo have managed to he very successful. I'm not sure that Space Dandy will command the iconic status of a classic anime, but only time will tell.