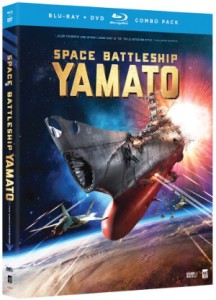 Title: Space Battle Ship Yamato
Director: Takashi Yamazaki
Screenplay Writer: Shimako Sato
Actors: Kazuki Namioka, Meisa Kuroki, Takuya Kimura and Tsutomu Yamazaki
Studio: Tokyo Brodcasting System, Toho and may others
U. S. Distributor: Giant Ape
U. S. Release Date: April 29th, 2014
Format: Blu-ray / DVD / Feature Film / 131 minuts
Genre: Sci Fi, Drama, Action, Adventure
Age Rating: Not Rate, but I rate as PG 13
Overall Personal Rating: B+
Synopsis:
A cult classic from the glory days of anime blazes to life on the big screen in this feature-length sci-fi epic starring Takuya Kimura (Redline, Howl's Moving Castle)!
The year is 2199. Mankind teeters on the brink of extinction as the Gamilas, a heinous race of alien invaders, wage an endless war for the right to inhabit the Earth. The last hope for humanity lies on the distant planet of Iskander, and the only battleship capable of attempting the journey is the legendary Yamato. Armed with the devastatingly-powerful Wave Motion Cannon, grizzled Captain Okita and the Yamato's crew venture boldly into the darkest depths of space. The Gamilas attack at every turn, but fallen hero Susumu Kodai and ace pilot Yuki Mori fight side-by-side for the future of their world. Together, these young lovers unlock the secrets of Iskander – only to face a harrowing voyage home that will change their world forever!
Commentary:
Space Battleship Yamato is one of those highly rated anime that finally made its way into a live action film. The complexity of the series clearly posed a genuine issue when trying to compress it into a two hour film. I have to hand it to Takashi Yamazaki and Shimako Sato for creating a faithful film with only a few minor changes, that could be argued, added to the overall appeal of the story. I found the film to be entertaining as a stand alone film even if I did get the feeling that some of the special effects may have been taken with a lower level of production quality. On a whole it managed to come togehter and tell the story within a very limited timeframe.
As a person who grew up watching film where actors follow the very western method acting approach I still find myself becoming a little annoyed with the over the top Kabuki style acting that comes across in many Japanese action films. I have a real tendency to find over the top acting as rather funny and distracting when the moment should rally be tense and dramatic. I guess it is all about each of our own perception and it is clear to me that this type of exuberant facial expression acting is something that is well received in Japan and much of the Asian world. I think will does pose a problem for american fandom to really wrap their approval around films like Space Battleship Yamato.
Overall Grade: B+
The fact that Space Battleship Yamato is a fun and action filled Sci Fi is almost enough for me to like it, but the way that they put this complex story together is far and away the strength behind the film. The acting fell apart for me a little. I would have loved to see it acted in a much more conservative style and for the American market I think it would find a much larger fan base.
If you are a fan of Star Blazers / Space Battleship Yamato then this film is a must. If you are just looking for a Sci Fi that provides a solid two hours of fun and entertainment I highly recommend this movie for you.