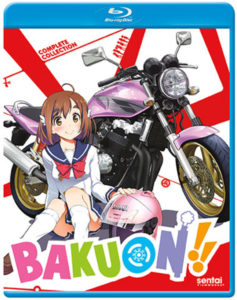 Title: Bakuon!! Complete Collection
Director: Junji Nishimura
Written By: Kurasumi Sunayama
Studio: TMS Entertainment
U. S. Distributor: Sentai Filmworks, Section 23
U. S. Release Date: Aug. 22, 2017
Format: Blu-ray / 12 Episodes / 300 Minutes
Genre: Slice of Life, Comedy
Age Rating: TV 14
Overall Personal Rating: B+
Synopsis:
Riding a bicycle may be better than walking, but when another girl zips past her on the way to class, Sakura Hane realizes that there's an even better option: motorcycles! Fortunately, Sakura's all-girl school just happens to have a motorcycle club! It only has one member though: the mysterious Raimu Kawasaki, who's never been seen without her face-obscuring helmet. But that changes immediately once Sakura and the girl who passed her, Onsa Amano, sign up and start recruiting!
It won't all be easy riding… Sakura still has to earn her license, and there are problems like the club's official status having slipped, and the need to recruit a faculty sponsor. But when the rubber hits the road, those are just little potholes as six student bikers take a ride on the wild side!
Commentary:
Bakuon!! is simply K-On! on motorcycles or one of the other many girl high school clubs slice of life series that manage to tug at that the heart strings and manage to give us all a reminder that somewhere in the world teenage girls are not possessed with being mean or crappy like they are in the U. S. Ok, that might have been a little harsh, but in reality the current media fixation on mean girls is breading a new generation of teenage girls that are crappy at best. Bakuon!! is the opposite. It gives us girls that may not always get along but they still care enough to show kindness to each other when it matters.
Bakuon!! may not reach the classic hight of K-On! but it still manages to give us some rather wonderful slice of life moments and plenty of humor to keep the viewer coming back for more. Bakuon!! also manages to avoid the trap of Love Live or Cinderella Girls and tends to stick with the much simpler trappings of a bike club. There is some mystery and suspense when it comes to their senpai Raimu.
Overall Grade: B+
I make no secret that I enjoy these simple slice of life anime and see the easy noncommittal viewing that comes with them. Bakuon!! manages to hit all the points that make it worth watching and enjoying.
The animation quality is good and so is the character design and approach to highlighting the motorcycles they ride. There is a solid attention to where they took the series adding in plenty of humor and bizarre happenings that it is easy to stay with the series. I can't tell if Rin's father is immortal or just very lucky.
Bakuon!! is one for the books it may not be a solid A but it sure is a series worth checking out. I just hope it doesn't fall by the wayside in favor of mediocre series like Attack on Titan when the real hope and allure of anime is not how mucho it can be like western comics, but rather how much it can showcase the eastern idealism and philosophy that makes it so powerful.
Bakuon!!, check it out you won't be disappointed.