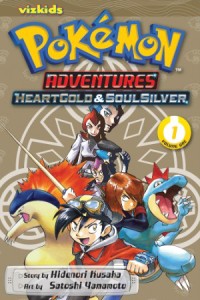 Title: Pokemon Adventures Heart Gold & Soul Silver vol 1
Writer: Hidenori Kusaha
Artist: Satoshi Yamamoto
U. S. Distributor: Viz Kids
U. S. Release Dated: Aug. 6th, 2013
Format: Manga / Paper Back / 192 pages
Genre: Card Game, Fantasy, Adventure
Age Rating: A for all ages
Overall Personal Rating: B
Synopsis: 
All your favorite Pokémon game characters jump out of the screen into the pages of this action-packed manga!
Your favorite Pokémon Trainers Gold and Silver are back! Crystal too! And so is Team Rocket… In this two-volume thriller, troublemaker Gold and feisty Silver must team up again to find their old enemy Lance and the Legendary Pokémon Arceus.
Meanwhile, Team Rocket is on the rampage digging up, stealing and collecting 16 mysterious plates for some nefarious purpose known only to them…
What is the hidden power of the 16 plates, and what do they symbolize…?
Commentary:
The Pokemon franchise continues to expand the beloved world that these characters live in. Heart Gold & Soul Silver brings into a new adventure where these characters get a chance to shine and at the same time show that their precocious nature and somewhat rowdy approach to life could end up being the one thing that saves the day. I have always enjoyed the way that all of the Pokemon heros have such focused lives at such young ages and in this 2 volume series nothing really changes. Doing the right thing is always what it is all about. I think it is great that they take the popular battle card game and turn the manga and anime series into a moral compass that shows the way to many young readers who are big fans of the card game.
The other aspect of Heart Gold & Soul Silver is that we don't have Ash or the other main characters involved. Pokemon is a rich world and was great to see the franchise breath new life into it when they began to explore the Pokemon world that doesn't revolve around Ash Ketchum. It is also fun to get a taste of a Team Rocket that isn't totally incompetent and it seems like they just might get away with their nefarious plans.
Overall Greade: B
I do admit that this manga franchise is for the younger set, but that doesn't mean that it lacks any substance. Heart Gold & Soul Silver creates a solid mystery , adventure that gives the reader something to look forward to. I like the fact that the leading characters have such rich personalities and also exude some serious self confidence that anyone reading this will end up with an appreciation for the story. I am looking forward to the second half of this 2 volume set and give a thumbs up to the franchise for keeping it alive and full of fun.