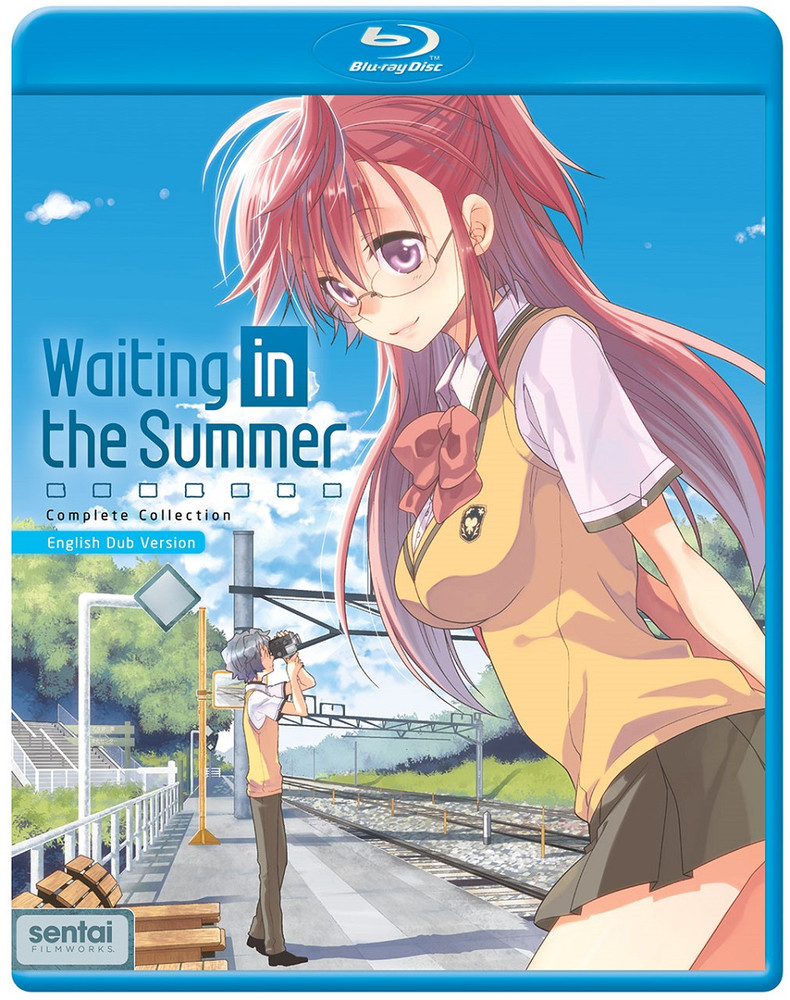 Title: Waiting in the Summer Complete Collection on Blu-ray
Directed By: Tatsuyuki Nagai
Written By: Yōsuke Kuroda
Studio: J. C. Staff
U. S. Distributor: Sentai Filmworks, Section 23
U. S. Release Date: March 15th, 2016
Format: Blu-ray / 12 Episodes + OVA / 325 Minutes
Genre: Harem, Slice of Life, Fan Service, Romance, Sci Fi
Age Rating: TV 14
Overall Personal Rating: A-
Synopsis: 
When a group of friends decide to make a movie over a long summer holiday, they end up learning a little about film-making and a lot more about each other and themselves. What begins as a simple way to avoid the summer doldrums quickly turns into something much more complex, intimate, and downright revealing.
As the summer heats up, so do the maturing relationships between the young cast members, taking some new, and sometimes unexpected, turns. Get ready for a whole new look at summer romance as hidden emotions get captured and secrets meant to be kept hidden inside young hearts instead spill off the screen for your viewing pleasure in Waiting in the Summer!
Commentary:
Thank you Sentai Filmworks for going back into the vault and bringing this wonderful anime back to life. The english dub should help bring a larger audience to it. As for the dub, because I an so familiar with the original release, I didn't find it as attractive as the 2016 release.
Waiting in the Summer is one of the sleeper anime that few people have seen. It has a rather straight forward plot and a simplistic romance structure, yet it catches your attentions and makes you really like these high school students on summer break and wish you could hang out with them and make a move too.
With this being a re-release and adding the OVA I am curious why there wasn't a English dub. I understand that there is a large cost to doing that. I just think that a English dub would have brought another layer of fans to the series and proved to be profitable.
Overall Grade: A-
I is nice to see Waiting in the Summer re-released with the OVA and forcing me to take another look at it. One one level there is a warn innocence that flows though it and on the other hand a sad reality to some things just can't be. With all that is going on with the film mirroring the plot line and the hidden specter of the men in black makes it hard to stop watching.
The animation is a smooth easy touch that is very typical   for anime of this type and the attention to detail done with such a soft touch that things flow together with the plot perfectly. I can't think of any other style that would have helped tell the story any better. The only detractor I have is that it does drag a bit in the middle and leave the viewer a tad frustrated with what is going on. I still find the series strong and with the added OVA it is just that much better.
If you haven't had a chance to see Waiting in the Summer then I think that this is the time to discover a series that is warm and friendly with layers of strange goings on. If you are in the mood for a easy going anime that has plenty of fun and oddities in it then Waiting in the Summer is for you.