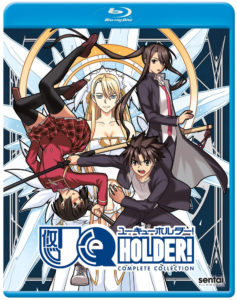 Title: UQ Holder! on Blu-ray
Director: Youhei Suzuki
Studio: J. C. Staff
U. S. Distributor: Sentai Filmworks, Section 23
U. S. Release Date: Nov. 27th, 2018
Format: Blu-ray / 12 episodes + 3 OVA / 375 Minutes
Genre: Shonen, Harem, Super Natural, Romance, Fantasy
Are Rating: TV MA
Overall Personal Rating: B+
Synopsis:
When you're the grandson of a famous hero, you'd think that your life would be interesting, but Tota Konoe is stuck in the dullest place he can imagine! He can't even leave his tiny village until he can defeat his teacher and foster parent Yukihime, and she seems to be impossibly powerful. Then everything changes when Yukihime is attacked and Tota learns that both she and Tota himself aren't who or what Tota thought they were! Now Tota has a new, impossibly long life ahead of him and an amazing destiny that ties in with the fate of his grandfather, the legendary Negi Springfield! Get ready for vampires, demons and magic users galore as Tota discovers the perils of being a member of the world's most exclusive organization as a UQ Holder!
Commentary:
UQ Holder! is a continuation of the much beloved Negima series it might be hard to live up to all the hype surrounding the past. UQ Holder! manages to do a fine job of taking the past and melding it into the current series. I am a little disappointed that some of the answers that are provided are rather simplistic and maybe a little over contrived, but the simple fact is that UQ Holder! is fun. The plot is straight forward with few surprising twist and a rather solid underlying hopefulness that makes many Shonen anime so popular. The main character, Tota, is very much as simple as his forefather Negi, but he also has a naivety that Negi did not completely have. It is almost as if there was a mix of Goku from Dragon Ball Z and Negi to make this odd rather incomplete being. Of course his discovery of himself along the way is all part of the strength of the series.
Overall Grade: B
There is something wonderful about Tota and some of the other characters, but the insane mix of harem anime culture really detracts away from the true positive aspects of the series. The area that it shines is the real love story amount Tota and Yukihime along with his simplistic bonds with some of the other characters. I found myself liking Tota against my will and also feeling sorry for Yukihime when maybe she didn't deserve it. Most of the others were more or less comic relief and sometimes got in the way.
My great sadness comes form the week reliance on fan service to provide silly events and even push some absurd moments forward. I would have really like to see this series put forward without the major loss of clothing if only ended up detracted from the content of the plot and making serious situation rather silly isn the end. I understand that the audience for the series is that 16 to 25 male group, but there is also a latent fanbase of young women who loved the manga series and who would have really like this series if the girls managed to keep their cloths on.
Bottom line is that UQ Holder! is a fine continuation of the Negima series and also opens the door for more to come.