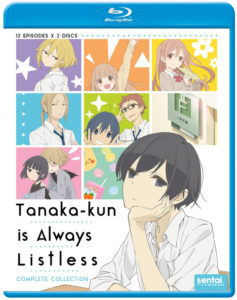 Title: Tanaka-kun is Always Listless on Blu-ray
Director: Shin'ya Kawatsura
Writer: Akemi Omode
Music by: Hiromi Mizutani
Studio: Silver Link
U. S. Distributor: Sentai Filmworks, Section 23
U. S. Release Date: Jan. 30th, 2018
Format: Blu-ray / 12 Episodes/ 300 Minutes
Genre: Comedy, Slice of Life
Age Rating: PG
Overall Personal Rating: A-
Synopsis:
Tanaka-kun can't help it. Put him someplace nice and warm, and he'll start nodding off, even in class or on the way to school. You would think that this would eat into Tanaka's social life, but, fortunately, our consciousness-challenged protagonist has a guardian angel in the form of his best friend Ohta, a gentle giant who (literally) carries Tanaka from place to place. Then there's class-rep Shiraishi, who's convinced that Tanaka's unique perspective lets him see past her beautiful appearance; Miyano, their hyper pint-sized classmate who somehow becomes Tanaka's unwanted apprentice in listlessness; and Echizen, a self-proclaimed delinquent who's determined to fight him. As for Tanaka, being the center of attention is the last place he wants to be, but the world just won't leave him alone.
Commentary:
I find Tanaka-kun is Always Listless to be a very interesting series. That fact that someone that sleepy has such devoted fiends says a lot about the Japanese culture. Tanaka being one of the most tied characters in all of anime manages to lead a full ice life. If he were in an western series he would be a side character who manages to get in the way every once in a while, but to see him have not just friends but a cute girl who has a crush on him is outrageous at best.
Tanaka-kun is Always Listless has a full variety of characters and that is where it really shines. I found Ohta to be one of the more interesting character with his stoic manner and unwavering friendship to be spot on. Most of the rest of the group are standard fair for most slice of life anime, but with this series you get to enjoy them in a much different way because of Tanaka and his sleepy nature.
Overall Grade: A-
Tanaka-kun is Always Listless hits the mark on many levels and even though it has its slow moments I found it to be vey likable. I would not recommend Tanaka-kun is Always Listless if you are tired because you might fall asleep just watching Tanaka and his listless nature.
I did find the animation style to be perfect of the series and the English voice actors did a great job with understanding their character. Most of the overall production was spot on. The only area where I found any issues was with some of the basic plot line and character development of a couple of the secondary character.
I found it to be a much more positive experience than with some of the other recent slice of life series and would suggest that if you are looking for something that is straight up funny thenTanaka-kun is Always Listless is of you.