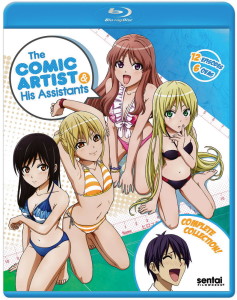 review provided by Katie and Andrew
Title: The Comic Artist and His Assistants: The Complete Collection
Director: Takeshi Furuta
Studio: Showgate
Author: Aki Itami
U.S. Distributor: Sentai Filmworks, Section 23
U.S. Release Date: September 15, 2015
Format and Length: Blu-ray / 12 Episodes + 6 OVA's / 205 Minutes
Genre: Comedy, Ecchi, Harem, Slice of Life
Industry Age Rating: 14 and up
Overall Personal Rating: C
Similar Series or Titles to Check Out: Kill Me Baby!
The term NSFW was invented to describe this guy.
Synopsis:
Perversion, lechery, and a lack of respect for the feelings of others are all qualities that would normally look really bad on a resume, however for Yuki Aito they are the fundamentals of his art. His art is good enough that managing editor Mihari Otosuna will put up with a lot, including panicked panty runs, barrages of breast jokes, and other even lower-brow forms of self-amusement that Yuki wallows in.
However, when the continuing carnal crudity causes Yuki to fall behind schedule, Mihari is forced to bring in a team of assistants for him. But those assistants are of the young and attractive female type so that schedule will be going right out the window. Will Yuki's assistants be able to fight him off and keep him on schedule? You will have to watch The Comic Artist and His Assistants: The Complete Collection and see.
Commentary:
The Comic Artist and His Assistants: The Complete Collection is set up in a very interesting way as each of the twelve episodes are less than fourteen minutes long and the OVA episodes are less than eight minutes long. Each episode consists of three to four mini-stories that revolve around one of the assistants and their day with Yuki. There is a large amount of fan-service in each episode and Yuki also cross-dresses in a couple of episodes.
The assistants really made the show enjoyable. Sahoto Ashisu has a high tolerance for Yuki and is his main assistant. This means she takes the brunt of Yuki's perverted actions. She aspires to be a manga artist herself and when she is not working for Yuki she attends art classes. Mihari Otosuna is Yuki's editor and is also the tsundere of the series. She is very focused on her work as an editor and is also tolerant of Yuki's perversions. Fuwa Rinna is Yuki's fan-girl. She took the assistant job when she had no experience and basically agrees to go along with whatever Yuki wants her to do. She must really like him because he can come up with some crazy ideas. Finally we meet Kuroi Sena. She is somewhat sadistic and proud but she also has a soft spot for cute things. She is also known as "Super Assistant!" in the manga world. She is usually the one to put Yuki in his place and sometimes she has to us a whip to do so.
The animation was normal. Nothing really stood out as amazing but everything looked good. The voice actors were chosen well and added to the characters. Personally, I believe that this series was given the wrong age rating. I think it should be a rating of 16 and up with all of the ecchi scenes. But that is just my opinion.
Extras:
The Comic Artist and His Assistants: The Complete Collection includes clean opening and closing animations, Japanese promos, episode 12 closing karaoke version, and Sentai Filmworks trailers as special features. This series was released with Japanese with English subtitles as the only language option.
Overall Grade: C
The Comic Artist and His Assistants: The Complete Collection is interesting to say the least. However, that is not a good thing this time. If you enjoy the ecchi genre then you will probably like this series.