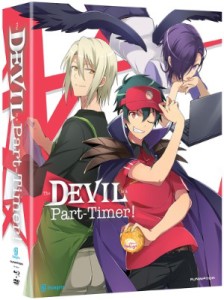 Title: The Devil is a Part Timer
Director: Masahiro Yokotani
Studio: White Fox
U. S. Distributor: Funimation
U. S. Release Date: July 22nd, 2014
Format: DVD / Blu-ray / 13 Episodes / 325 Minutes
Genre: Harem, Comedy, Romance, Supernatural
Age Rating: TV 14
Overall Personal Rating: B+
Synopsis: 
When Satan is run out of his infernal kingdom, he finds himself virtually powerless in modern-day Tokyo. Stuck in a feeble mortal body and desperate for cash, there's only one way for the dark lord to survive: by getting a job manning the deep fryer at "MgRonald!"
As Satan flips burgers and tries to regain his evil magic, he's pestered by a righteous hero who tracked him to Earth, a video-game-loving fallen angel looking for a way back into heaven, and the most unholy of enemies: a rival fast food franchise. Will he figure out a way to reclaim his homeland and throne? And if not, will this demonic burger king at least sell enough featured menu items to be promoted to shift supervisor? The devil can't survive on minimum wage!
Commentary:
The Devil is a Part Timer follows in the path of many light comedy harem series, but in several ways it stands out on its own for humor and pointed parody. The story is rather simple with the Devil being upon the verge of having his butt handed to him in battle by the righteous Hero and in order to be able to fight another day he and one of his powerful generals escape through a demential portal and end up in Tokyo. Of course the Hero is able to slip through the portal and also end up in Tokyo. Simply put they all end up loosing most of their magical powers which forces them to become regular humans and struggle through life having to make money just to survive. This basic plot is not what makes the series special, it is the character development and the way in which the story makes the viewer start to root for this unlikely group.
First of all the Devil somehow ends up making some rather monumental changes that make him a very likable person without making him overly sappy. The Hero is a bitter young woman who never seems to want to see the change but it is easy to see that she really see him for what he has become but still keeps her position of his inevitable slayer. This interplay between the characters keeps the story alive and also ends up being much if the humor.
Overall Grade: B+
Devil is a Part Timer has many elements that more recent stores like I Can't Play H and Maoyu where there is a link between the human and demon world and in essence the connection between the two is at it core and proves to be very necessary.  All three of these stores use that interplay to their fullest and also make the connection something that stands out in the forefront, not a thing that must be discovered later in the series. The ting about The Devil is a Part Timer that makes it special is the writing and character development. I really enjoyed the way the each of these characters puled their own weight and how the persona of the devil ended up making them all stronger.
There was some simple and somewhat unobtrusive fan service in the series and I'm sure it was there just to please a special segment of the fan base, but overall I didn't see anything about the series that made me want to turn away form it. The only flaw that I have is that it ended up being too short and the ending doesn't feel complete. I'm not saying it can't end there I just feel like I would like to see the devil and the hero really get together rather than just leave them in the place they are at the end. I also got a feeling like there is still much more to the story, I am not sure why there was a 13th episode if it wasn't there to open the door to more. Maybe we will see an OVA come out in the future in order to close the gap between them. Anyway, The Devil is a Part Timer is a fun series that promises to give you plenty to enjoy and keep you smiling throughout the entire 325 minutes .