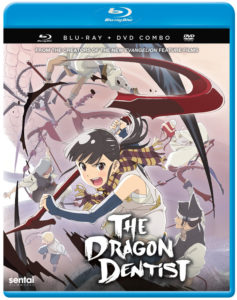 Title: The Dragon Dentist on Blu-ray
Directed By: Kazuya Tsurumaki
Produced By: Hideki Anno
Studio: Khara
U. S. Distributor: Sentai Filmworks, Section 23
U. S. Release Date: Oct. 31st, 2017
Format: Blu-ray / 2 Part Special Film / 90 Minutes
Genre: Drama, Fantasy
Age Rating: TV 14
Overall Personal Rating: A
Synopsis:
Going into war against a dragon takes incredible courage, but even that danger pales in comparison to the hazards of young Nonoko's job. As a Dragon Dentist, she's charged with venturing into the jaws of the country's dragon protector to keep its pearly canines free of plaque, decay, and other debris. One day, Nonoko discovers an unconscious soldier between her dragon's teeth instead of a cavity, and she finds herself caught up in a series of events that have been foretold to bring disaster to her people! Get ready for an incredible brush with destiny that leads two young people through the mouth of hell and towards certain doom as the creators of the new EVANGELION feature films unleash an epic unlike anything you've seen before in THE DRAGON DENTIST!
Commentary:
It has been some time since I was introduced to a anime that took me by surprise. The Dragon Dentist is one very unexpected 2 part film. In some ways I am still not sure what to think. The plot and overall story is very unusual and at times almost was too surreal. At other times there was some rather profound moments that seem to give purpose to the storyline.
I am still not sold on the idea of Dragon Dentist and what their purpose really is. I get the fact that they take care of the dragon's teeth, but I also see them as a metaphor for something very deep and meaningful. I just can't make the complete connection.
The Dragon Dentist is full of some rather cliche connection and tropes, but just underneath the story is a rather poignant meaning of life anime that makes you ponder more than just what you are watching.
Overall Grade: A
I knew that it would be weird with Anno being the producer, but I never thought it would take me on a journey that would leave me confused and satisfied at the same time. The Dragon Dentist is a must see for anyone who enjoys a good mind game anime and if you liked Evangelion then you will love The Dragon Dentist.
The production and animation is also a bit different. I can't say that it was beautiful like a Shinkai film or imaginative like Ping Pong. I would have to call it interesting and very suited for the story. It takes on a bit of a Post-Modernist viewpoint and artistic perspective and still provides plenty of visual interest to keep your eyes pealed to the screen. At first I was distracted by the break in the middle between the two episodes, but now that I think about it, I see the break as being rather clever. It provided time to stop and think about what you just watched and helps set you up for the second half. It also draws you to the point that makes you desire more.
The Dragon Dentist is a hit in my book and I think anyone who likes anime that makes you think will see it as a hit too.