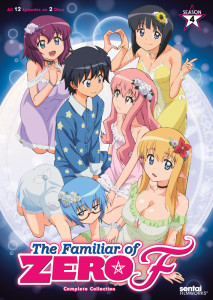 review by Katie and Andrew
Title: The Familiar of Zero F (Season 4)
Director: Yoshiaki Iwasaki
Studio: J.C. Staff
Author: Noboru Hamaguchi
U.S. Distributor: Sentai Filmworks, Section 23
U.S. Release Date: May 12, 2015 and July 14, 2015
Format and Length: Blu-ray / 12 Episodes / 300 Minutes
Genre: Adventure, Comedy, Fantasy, Harem, Action, Romance
Industry Age Rating: 14 and up
Overall Personal Rating: B
Similar Series or Titles to Check Out: The Familiar of Zero and The Familiar of Zero: Knight of the Twin Moons
Synopsis:
The Familiar of Zero F concludes the story. Are Saito and Louise ready to take their relationship to the next level? Sadly, that answer will have to wait yet again as they must save Halkeginia once again. However, this time the mission requires them to use Louise's Void Magic along with the other Void Mages they have found. Betrayals, reversals, and the inevitable side trip to the hot springs lie ahead as the evil forces plot away and dysfunctional relationships get even more dysfunctional. You could say they put the "fun" in dysfunctional. Plus many things go Boom for only vaguely justifiable reasons!
Commentary:
I absolutely loved that there was a conclusion to this series. It does not leave anything open to questions and gives you the conclusion that you want if you love rom-coms. Louise finally matures enough to see that Saito loves her above all the other girls and she finally stops being so insecure. We also get the token Hot Springs episode. Lots of fan-service to be had and Louise does things that made me cry but then you see why she did them. But some things did not make sense, such as how Saito can be the familiar of two mages or how he can steal a fighter jet in 2 seconds flat and get back to Halkeginia. All the characters come back for the final season to save Halkeginia from destruction and we even meet the "Pope." Henrietta finally began acting like a queen near the end of the series and she also matured. The battle scenes were well done and the music went with the scenes perfectly. The opening and closing songs were okay but I really liked the ones from the first season the best. The voice actors did an amazing job and made the series enjoyable.
Overall Grade: B
Overall, I have enjoyed watching the entire The Familiar of Zero series. However, I felt the fan-service was overdone. I also thought the disciplining of Saito was over-the-top but I also know that is how Louise is. I still recommend this series for anyone looking for a good Fantasy series with some rom-com added in.