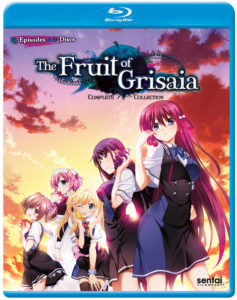 review provided by Katie and Andrew
Title: The Fruit of Grisaia: Complete First Season
Director: Tensho
Studio: 8-Bit
Author: Hideyuki Kurata
U.S. Distributor: Sentai Filmworks, Section 23
U.S. Release Date: May 10, 2016
Format and Length: Blu-ray / 13 Episodes / 325 Minutes
Genre: Comedy, Romance, School Life
Industry Age Rating: 17 and up
Overall Personal Rating: B
Similar Series or Titles to Check Out: Angel Beats! And My Teen Romantic Comedy SNAFU
"Being indebted to someone is nothing to be ashamed of, not repaying that debt is." – Yuuji Kazami
Synopsis:
Yuuji Kazami is a transfer student who has just been admitted into Mihama Academy. He wants to live an ordinary high school life, but this dream of his may not come true any time soon as Mihama Academy is quite the opposite. Consisting of only the principal and five other students, all of whom are girls, Yuuji becomes acquainted with each of them, discovering more about their personalities as socialization is inevitable. Slowly, he begins to learn about the truth behind the small group of students occupying the academy—they each have their own share of traumatic experiences which are tucked away from the world.

Mihama Academy acts as a home for these girls, they are the "fruit" which fell from their trees and have begun to decay. It is up to Yuuji to become the catalyst to save them from themselves, but how can he save another when he cannot even save himself?
Commentary:
On the face of The Fruit of Grisaia, it looks to be another harem. Guy transfers into new school looking to get away from his old life and to be normal for once. Does he have a chunibyo or something? Ok… The school is huge, and only has five other students, of all ages, and they are all females…. Where is this show going? This is going to be interesting. Oh wow… first day of school and one of the girls picks his lock and does 'inappropriate things' in his room. Another girl attacks him with a box cutter and he stops her cold in one move… What the heck is going on? Is this a school for assassins? I am so lost right now…………..
A few times you have heard me say things like "they rushed the story" or "it needed more episodes" or even, "They skipped something." In this one, they rushed the story, skipped a whole lot, and needed more episodes… A lot more episodes. As I watched, and scratched my head, trying to figure out how we got from A to B in the story line, it occurred to me that we actually went from A to L skipping many letters in the middle. Unfortunately, that left me wondering what was going on quite a bit. One thing the story lacked was any real background on the characters. You would get tidbits here and there, and only when absolutely needed to feed the relevance of the story, but hardly enough to really understand what, why, and even the how sometimes. The who part was left in the wind, and honestly, I'm still sorting that one out. Even in all its confusion and incoherency, I still found myself watching intently, wanting to know what was going on, and to learn all the details. Even when skipping half the alphabet, the story was very intriguing, and it did not have a hard time keeping my interest, even if I was not really sure what was happening, my interest in knowing more very much intensified. In the end, I figured out that it followed an arc for each girl, some lasting an episode or two, to one lasting as many as four. In the end I very much felt that there were a lot of details in the original story that got cut, either because of time, budget, or administrative limitations. This one had the potential to be a masterpiece. Even now, I am highly anticipating the sequel, which they so blatantly set up at the end of the last episode.
Extras:
The Fruit of Grisaia: Complete First Season includes clean opening and closing animations and Sentai Filmworks trailers as special features. This series was released with Japanese with English subtitles as the only language option.
Overall Grade: B
Just as an FYI, animal lovers may have some issues watching the ending of episode two. It almost put me off the entire series but I am glad that I gave it a second chance.