Title:The Pet Girl of Sakurasou complete collection on Blu-ray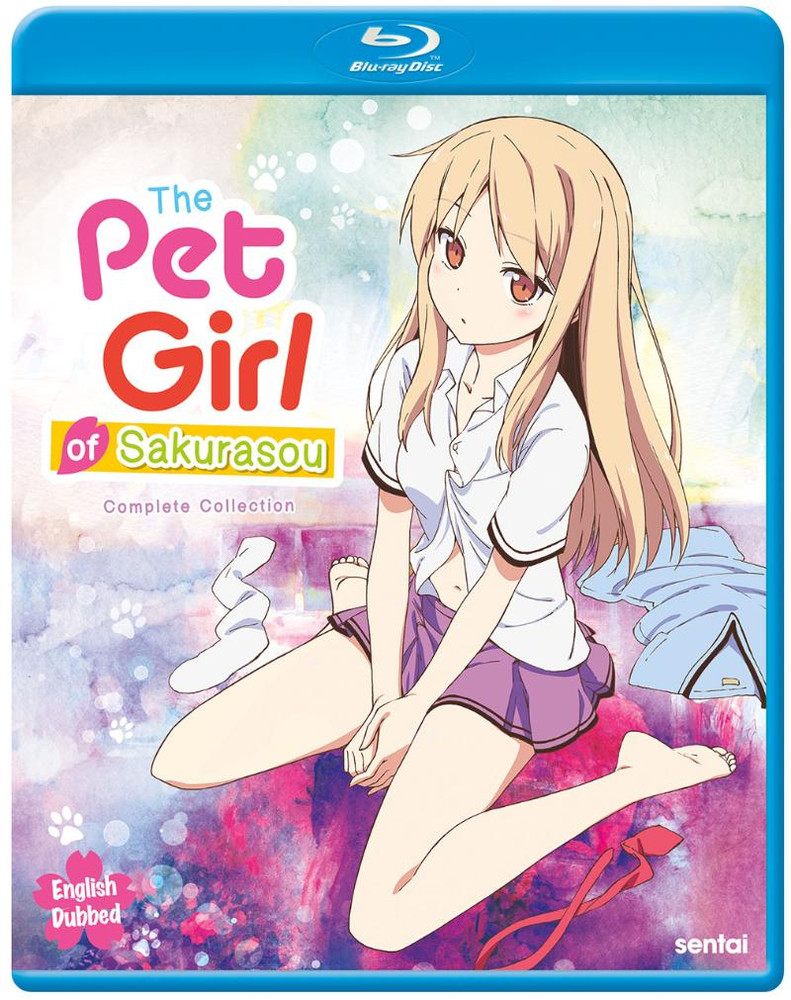 Director: Atsuko Ishizuka
Writer: Mari Okada
Studio: J. C. Staff
U. S. Distributor: Sentai Filmworks
U. S. Release Date: August 25, 2020
Format: Blu-ray / 24 Episodes / 600 Minutes
Genre: High school Comedy
Age Rating: TV 14
Overall Personal Rating: B
Synopsis:
Kanda's kindness and nurturing nature has stranded him in Sakura Hall when he was forced to leave the regular dorms at his high school. Having one by one collected a clowder of stray cats, he has to move in with the other disruptive and odd students. The place with the "ought to stay away" reputation.
Overseen by resident supervisor Ms. Sengoku who keeps herself busy with the fun side of life, it should not be a surprise that when her cousin, comes to live at Sakura Hall it is Kanda who gets assigned to take care of her. Not as easy as would be expected, to show a new student around and help her get acquainted with how things are structured. You see, Mashiro Shiina is an accomplished fine artist here to learn the art of manga, but personally she is unable to take care of herself in basic ways or understand proper behavior around others.
The rest of Sakura Hall resident's have their own issues/quirks/talents that land the motley group in comedic situations, and then to the very end, the bonds they unintentionally formed to be strengthened.
Commentary:
Pet Girl of Sakurasou has a previous release in the U.S. before, and finally this release version is the English dub. Yea! Except for one thing, Mashiro's manner of talking. It drove me crazy. It is so flat and emotionless that she didn't appear to care about anyone (even when she went through the motions), not even as much as a robot, so why should we even care about her? I don't think I ever did. Well, with that said, that is the only thing I disliked about the series. It may have been kind of a big thing, but still, I liked the series. I assume it was a discrepancy between the script and direction. Since the point of this edition is the English dub, I kept with it.
I was thinking Mashiro's character as more a necessary plot device for the story to take place, and her exaggerated misinterpretation for comedic effect. Someone so dysfunctional in everyday life that she needed a caretaker (example: microwaving a whole watermelon), and her social improprieties about clothing and where to sleep led to much of the humor and most of the comedic fan service (not overdone).
A gathering of unique (and enjoyable) characters, it was a fun series to watch. With Sorata, the guy who wants to help everyone, as the true center (not Mashiro who the series is named for), the building of his character and him understanding the world better led the other characters to grow as well. He was the nucleus that the family bonds formed around at Sakura Hall. His acceptance of people as they are was really encouraging. Odd though, he was rather clueless when a girl liked him, but I suppose it isn't odd for an anime high schooler.
The anime developed quickly yet didn't feel rushed at all. It was easy to get to know the characters. It is a comedy with a story and heart. There is good character development, each needing to grow in their own way. These are personalities you can care about. There were actual things they began to accomplish as individuals and as a group, goals that were the finale of both seasons. It makes a viewer want to watch to the end.
The misfits of Sakura Hall find a place to belong.
Some other titles that I think will satisfy similar anime tastes are Toradora!, Love Hina, and Oh!My Goddess.
Overall Personal Grade: B Bright and cheery, the hyperbole that is anime that we can enjoy.