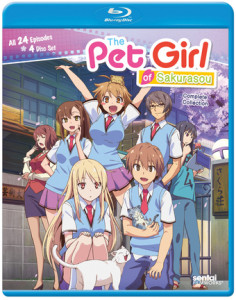 Title:The Pet Girl of Sakurasou complete collection on Blu-ray
Director: Atsuko Ishizuka
Writer: Mari Okada
Studio: J. C. Staff
U. S. Distributor: Sentai Filmworks, Section 23
U. S. Release Date: April 14, 2015
Format: Blu-ray / 24 Episodes / 600 Minutes
Genre: Comedy, Romantic Comedy, Absurdity, Slice of Life, Drama
Age Rating: TV 14
Overall Personal Rating: B+
Synopsis:
Banished from normal housing for the crime of adopting stray cats, Sorata Kanda's life has gone to the dogs and he's been impounded in Sakura Hall, a notorious den of troublemakers, geniuses and weirdos. Since he has a penchant for taking in small, cute but sometimes not completely loveable creatures, he's been tasked with keeping fellow resident Mashiro Shiina, an acclaimed but highly dysfunctional and unfocused artist, from forgetting to eat, brush her hair or wear clothes. Then there are the other residents of Sakura Hall, all of whom have their own unique quirks and challenging relationships.
Commentary:
The Pet Girl of Sakurasou has finally been put together as a sin leg set and I think it could have found a good  number of new fans if there was a english dub, but Sentai Filmworks is not there yet. Never-the-less this is still a delightful series that doesn't demand too much of you and at the same time manages to bring on plenty of good feeling toward this strange, but lovable group of misfits. Sorata may be portrayed as the normal one of the bunch and in some ways he may fit into everyday society a little better, but I see him as possibly the strangest one of the bunch. The fact that he has a unbridled weakness for cat makes him a huge favorite and he also allows himself to be the center of the group without being a overbearing shining obstacle to all of their uniqueness.
The Pet Girl of Sakurasou is a delightful short series of 24 episodes that manages to give up plenty to smile about. The animation is perfect for the series. It is bright and cheery that helps keep the series in its element. I can't say that it was powerful or moving like a studio ghibli movie, but it did go well with the story even if it was rather common for 2012/2013 standards.
Overall Personal Grade: B+
The Pet Girl of Sakurasou has a level of drama included that helps keep the story level and even. The trial and tribulations these young people are going through are similar to many of the struggle all of have gone through. Of course a couple of the demons are a little melodramatic but that too is fine because it gives everyone a reason to feel their sadness and also cheer when the rest of the world is being brought into their drama.
Again I feel like this is a great series and in many ways it put older classic slice of life series like Clannad to shame, but it doesn't have a huge fan base in the states because there is no english dub. I know that there are the hard core fans that want the Japanese voices acting with the english subtitle. I think this is a little bit of a narrow view of things and a flash back to older dubs were they just simply sucked. Over the last few years I have only come across very few anime where the english dub ruins the series. Anyway, in the case of The Pet Girl of Sakurasou I am confident that a solid dub would propel it into the classic status it deserves.
Either way I have to tip my hat to the series and tell everyone that if they haven't see The Pet Girl of Sakurasou yet then they need to get busy and check it out.