Title: The Squid Girl The invader comes from the bottom of the sea!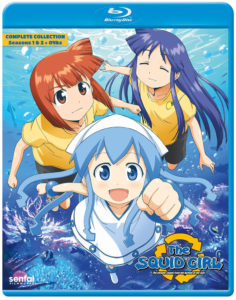 Distributor: Sentai Filmworks
Format: Blu-ray /24 episodes + 3 OVAs on 5 discs / 675 minutes
Genre: Comedy
Age Rating: TV 14
Overall Personal Rating:B+
Synopsis:
Squid Girl is a human looking girl with squid-ish attributes, for instance, hair that functions as tentacles. One day, fed up with the way people trash the water and beach, she comes out of the ocean intending to take over and subjugate the humans. Only, she has no idea of how to do it and she is rather innocently goofy. In her attempt at domination, she damages "the Lemon", a beach snack shack. The manager, Eiko, isn't putting up with any of the nonsense and makes it clear that  Squid Girl would have to work at the Lemon to pay for damages. That's how she ends up as a waitress as well as living with Eiko and her family.
The beach has collected a odd assortment of characters making Squid Girl just another personality to liven things up. Besides Eiko and her siblings, there is Cindy: an alien seeking scientist who of course would have her eyes on Squid Girl. Cindy's associates; a goofy trio  who have grand ideas and amazing/ extraordinary inventions but never quite think things out to a successful conclusion. Sanae: the Squid Girl-extreme obsessed fan. Goro: the lifeguard. Nagisa: one person who actually is worried about Squid Girl's threat to humanity. And even still more interesting people who join in the comedy.
 Commentary:
Squid Girl is all comedy. Quirky, upbeat, slapstick and loaded with Squid (and ink) puns. It is not really a series intending to tell a linear story, it is all about the comedy and what the characters can bring to it. Actually, you could watch the first episode and a few more in the middle, and get the gist of the entire series. But, I see it more as a presentation to entertain and have some off-beat fun, nothing more developed than that, nothing serious to commit to. So basically, a light hearted enjoyment. It was a fun show to watch, but its quirky light-heartedness isn't what I've been watching much in anime. So, I wasn't quite ready for it and I think I was looking for more story. I've just gotten used to that. I'm glad there is an English dub, because this seems appropriate for younger ages and you got to have a dub for that.
To me, the characters are the main focus in the anime. I suppose the beach setting is necessary because it is what physically connects Squid Girl to the land, but it becomes important as an attraction for all sorts of people whether it is the people who are there everyday or someone just wandering in for the afternoon. Either way, it opens up the possibilities for the characters to shine. The bumbling "scientist" are at the top for comedy. To start with, it's rather quirky that the " scientist" hang out there, but it is after all a comedy, so we just go with it.
As an anime, another thing that I thought was great was how well it works cohesively. It is a bubbly, quirky comedy and everything from the music to the color and style of art support that. The bold saturated colors have that up-beat comedy feel. The characters were either very comedic, of the mirror that reflected and enhanced the humor. Their dialogue, personalities and situations create a world unto itself that we just don't need to believe in to have fun.
Overall Grade: B+ 
A silly comedy ready to make you smile (or groan), rich in goofy slapstick and everlasting puns.