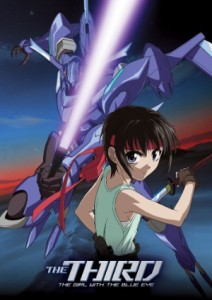 Title: The Third: The Girl With The Blue Eye
Director: Jun Kamiya
Studio: Xebec
U. S. Distributor: Nozomi / Lucky Penny
U. S. Re-Release Date: April 1st, 2014
Format: DVD / 24 Episodes / 600 Minutes
Genre: Sci Fi, Action, Adventure, Romance
Age Rating: 15+
Overall Personal Rating: A-
Synopsis:
In a devastated world overrun by monstrous bugs and ravaged by outlaws, there's only one person to call when you really need a job done right: Honoka. With a sixth sense for danger, sword skills second to none, and a smart-aleck A.I. tank by the name of Bogie, she's ready to tackle any job and solve any problem for her clients. But while crossing the desert one night, she finds a young man alone in the wasteland. It's the first step of a journey that will challenge even Honoka's amazing skills to their very limit!
Commentary:
Even though this series has already made its rounds it is great that Nozomi has re-released it. Most of us are familiar with Trigun but not as many knoe this series. From my point of perspective it has just as much entertainment factor as Trigun and in some ways gives us story that carries itself better than expected. The pacing of development hist on all cycles. We discover the hidden secrets about Honoka and also get a great feeling for how she thinks at the same time. We also discover the secondary characters at the same time and because of the way the series unfolds it becomes very easy to stay with it. Each of these rich characters add a very important link in the story that not only gives us people to connect with but a group of compadries that we really want to see make it through to the end.
One of the real strengths of the series is the way it was written. The story comes to us in two separate directions at the same time. No only do the characters unveil themselves, but was are also given entertaining plots to each part of the story that build upon the last one to make the series stronger as it goes. Each segment tells us something more important about Honoka that comes into play in the end and prove to be more important that originally portrayed. The Thrid: The Girl With the Blue Eye is a great reminder of series that have been around for a while.
Overall Grade: A-
When looking for a series that gives plenty of action and also provides full cast of characters you want to root for the you should pick up The Third: The Girl with the Blue Eye. The animation might give you a pause because it will apear a bit dated, but trust me once you get into the sotry you will not even notice. The story stands on its own. From discovering the hidden secrets to Honoka to the truth behind the rulers of their world and why there are the techos taboos. Lots to learn about and plenty of action to get you there. These are the keys to a good series and this one has it.