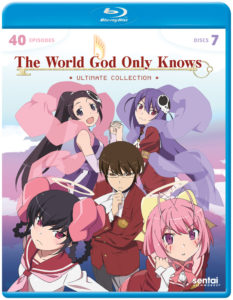 Title: The World God Only Knows Ultimate Collection
Director: Hideyuki Kurata
Studio: Manglobe
U. S. Distributor: Sentai Filmworks, Section 23
U. S. Release Date: Jan. 3rd, 2017
Format: Blu-ray / 36 Episodes and 4 OVAs/ 1000 minutes
Genre: Comedy, Fantasy, Harem, School Life, Video Games
Age Rating: TV 14
Overall Personal Rating: B
Synopsis:
The World God Only Knows Ultimate Collection contains episodes 1-12 of season 1, 1-12 of season 2, 1-12 of season 3, and 1-4 of the OVA.
Keima Katsuragi's skill at winning women's hearts is so legendary that he's called The God Of Conquests, but that's only in dating video games, not the real world.
Suddenly, Keima's life takes a turn for the weird when he answers what he thinks is an online gaming challenge. Instead, he ends up with a demon contract, and now he has to help perky demon hunter Elsie track down a bunch of demons that have escaped from hell!
The reason: the demons have hidden themselves within the hearts of a group of random girls, and the only way to get them out is if Keima can make the girls fall in love with him. Also, just to make sure that Keima is properly incentivized, his failure will result in the loss of something important: his head!
Hopefully, the tricks Keima's mastered with virtual girls will work just as well with live ones. Otherwise, things are going to get really messy in the spectacular ultimate collection of THE WORLD GOD ONLY KNOWS!
Commentary:
In the overarching collection the shinning star are the first two seasons. Watching Keima go from unwilling participant to someone who has a secret love for the chase is fun and entertaining. The parody of the otaku world is not lost and there are some wonderful examples of the reality that has gripped the entire world when it comes to gaming and almost any other fandom.
The story itself is a rather silly, but it creates some wonderful situations  that are played out in a witty and humors fashion. The writing for season 1 and 2 manages to prove the point  that if it is clear what needs to be done then the story can write itself.
For season 3 Dating Game master Keima Katsuragi's skills at conquering hearts in the virtual world have translated into real life so well that he and Spirit Hunter associate Elsie have already captured 14 of the runaway spirits attaching themselves to the souls of different girls. But is even the God of Conquests up to the task of romancing six REAL Goddesses?
The fate of the world may depend on it, because if Keima can't do it six more times, a renegade faction of demons will use the Goddesses power to unleash an even more dangerous and powerful group of demons. That could mean the devastation of both Heaven and the Earth! (Not to mention Keima losing his own head.) And if the situation wasn't difficult enough, it seems that the Goddesses' souls are hidden inside girls that Keima has already had to make fall in love with him before. As part of the magic spell, they've all forgotten about him… or have they?
It is understandable that the overall popularity of the series pushed the studio to make a 3rd season. It is also understandable that there was some attempt to use the earlier plot line to help drive the current story. I can appreciate both, but as it all too often comes to pass, I can say that The World God Only Knows: Goddesses doesn't even come close to being as entertaining as the first two seasons.
It is great to see all the characters come back and to have the wide array of personalities to play off of it just felt forced and more than just a little contrived. Of course it is natural that anime come across contrived because it is contrived. Once in a while an anime will feel somewhat natural, but most of the time you walk away thinking to yourself that they really pushed it this time. The World God Only Knows: Goddesses doesn't pull any punches in that category.
One thing I have learned over the years is not to expect much from OVAs. As for The World God Only Knows OVAs I can say that I found them to be both disappointing and pleasing. On the dissapointing side of things I thought 2 of the OVAs were simple through away episodes that didn't really catch the essence of the series but on the two that dealt with Tenri and Diana proved to be both entertaining and helpful with back story that is key in the Goddess season.
The other two OVAs were a simply there for a quick smile at best. At worst they added nothing to the story and made a few of the characters look a little silly. I'm always amazed when I see OVA's come out I hope and pray that they wrap things up but more often than not they just give us nothing but a laugh if we are lucky.
Overall Grade: B
When looking at the complete body of the series I find that the balance of interest must fall on season 1 & 2. Season 3 is a weak reminder of the essence of the story and the OVAs are just a money grab.
After being such a fan of The World God Only Knows and having the OVAs tossed out there a reminded that anime is more of a business than an art form and the reality is that they are trying to make a profit. I can't be to saddened by this release because there is some material in the group that is relevant to the series. I also see the other OVAs as simple comic relief and nothing more.
If you are a serious fan of The World God Only Knows then this set is something that you will want to own. If you aren't then I would say look else were for your entertainment.
Extras:
Japanese Promos, Music Videos, Clean Opening Animation.