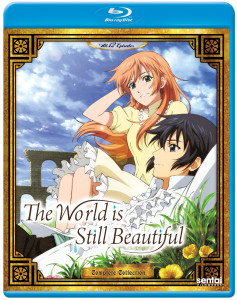 Title: The World is Still Beautiful complete collection
Director: Hajime Kamegaki
Creator: Dai Shiina
Anime Writer: Kousuke Yamashita
Studio: Pierrot
U. S. Distributor: Sentai Filmworks, Section 23
U. S. Release Date: October 6th, 2015
Format: Blu-ray / 12 Episodes / 300 Minutes
Genre: Fantasy, Romance
Age Rating: TV 14
Overall Personal Rating: B
Synopsis:
Politics makes for strange bedfellows, especially when you're a Princess, where bedding some strange fellow may be your duty to your country. Which is how Nike, fourth Princess of the Rain Dukedom, finds herself being shipped off to marry the King of the Sun Kingdom after losing a game of chance with her older sisters. And if it wasn't bad enough that King Livius is apparently a power-mad potentate who's managed to conquer most of the world in a few short years, Nike even manages to get herself mugged just as soon as she arrives!
But then something strange happens and Livius turns out to be… well, not nice, but at least not exactly what Nike expected. There are sinister forces at work in the kingdom that can only be defeated if both young royals can find a way to work together. The future of both kingdoms and the world depends on a diplomatic relationship becoming something even more powerful!
Commentary:
It is nice to see a simple fantasy, romance story filter over in the year of the Mecha and Action bombardment from Japan. The World is Still Beautiful is a rather average story about an  young woman and a boy King that are opposites and the same who manage to fall in love anyway.
Yep an older woman and a younger man, it's about time we have a reverse Moe. The only problem with that is that it comes across a little awkward.  It still manages to tell a fun story that takes several unexpected turns, but it never seems to waiver from the concept that these two mismatched people are meant to be together.
Overall Grade: B
The World is Still Beautiful is a fine series that tells its story in a simple way that both draws you in and keeps you wanting the best to happen to the main characters. Even though this is rather straight forward I feel that it works for the show with it being only 12 episodes.
The animation style is classic Pierrot and it does not get in the way of the story. I can't say that it helps to show off anything special, it only does what it should do and that allows the story to be free to explore the world and the characters better.
If you are looking for a solid fantasy that happens to have some romance in it then don't be afraid to want a little rain in your life. Be sure to check out The World is Still Beautiful.