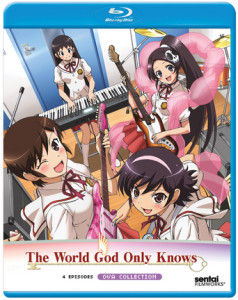 Title: The World Only God Knows OVA Collection
Director: Shigehito Takayanag first 3 and Satoshi Ōsedo for Magical Star Kanon 100%
Writer: Hideyuki Kurata
Studio: Manglobe
U. S. Distributor: Sentai Filmworks, Section 23
U. S. Release Date: May 5th, 2015
Format: Blu-ray / 4 OVAs / 100 minutes
Genre: Harem, Romantic Comedy, Gaming Parody
Age Rating: TV 14
Overall Personal Grade: B-
Synopsis:
Get ready to rock, roll and duck deadly spells all night as Dating Game master (and now real-life romance wizard) Keima Katsuragi and his spirit-hunting partner Elsie are dragged kicking and screaming into their wildest set of adventures yet. Things get off on a strange foot when Chihiro convinces Elsie, Ayumi and Miyako to form a band. Unfortunately, they're really not very good and their quest to get rehearsal space from the school somehow escalates into a challenge to score perfect 100s on their English tests.
After coaching them through that, Keima should have earned a peaceful vacation, but instead of spending the time playing dating games, his plans are seriously derailed by a forgotten childhood friend, a rogue team of Hunters, and some very nasty cases of possession by evil spirits. Finally, the magic goes from dark to light when the only thing that can save idol singer Kanon's fans is for her to become a REAL magical girl!
Commentary:
One thing I have learned over the years is not to expect much from OVAs. As for The World God Only Knows OVAs I can say that I found them to be both disappointing and pleasing. On the dissapointing side of things I thought 2 of the OVAs were simple through away episodes that didn't really catch the essence of the series but on the two that dealt with Tenri and Diana proved to be both entertaining and helpful with back story that is key in the Goddess season.
The other two OVAs were a simply there for a quick smile at best. At worst they added nothing to the story and made a few of the characters look a little silly. I'm always amazed when I see OVA's come out I hope and pray that they wrap things up but more often than not they just give us nothing but a laugh if we are lucky.
Overall Grade: B-
After being such a fan of The World God Only Knows and having these OVAs tossed out there am reminded that anime is more of a business than an art form and the reality is that they are trying to make a profit. I can't be to saddened by this release because there is some material in the group that is relevant to the series. I also see the other OVAs as simple comic relief and nothing more.
If you are a serious fan of The World God Only Knows then this set is something that you will want to own. If you aren't then I would say look else were for your entertainment.