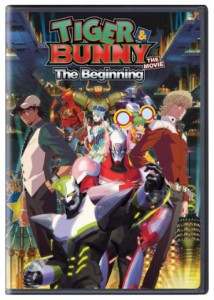 Title: Tiger & Bunny the Movie: The Beginning
Director: Yoshitomo Yonetani
Studio: Sunrise
U. S. Distributor: Viz Media
U. S. Release Date: Oct. 1st, 2013
Format: DVD / Feature Film / 94 minutes
Age Rating: TV 14
Overall Personal Grade: B+
Synopsis:
In the metropolis of Stern Bild, there are heroes who wear the logos of sponsors and protect the city from danger. Their exploits are broadcast on the popular HERO TV. Wild Tiger (Kotetsu T. Kaburagi) is a veteran superhero past his peak who is ordered by his company to team up with the rookie hero Barnaby Brooks Jr. Can these two mismatched superheroes overcome their differences to protect the city?
Commentary:
Tiger and Bunny are coming at us from every direction now and for a series that is 25 episodes long it sure has made itself known. With this first film the opening of the series is recapped, and at first it feels just like the original series, but it doesn't take long for some new shorelines begin to show up. Although there is really nothing new about the series added there is another element added to these hero's personas and the essence of who they really are. In the series Barnaby takes a while before you realize that beneath that cold point hungry exterior that there is a person who cares about others and with Tiger his goofiness shines through even brighter. The others still have their basic personalities but they are provided with a few more minutes to let us see what they were like in the early stages. As with most teams it takes a while for everyone to begin to trust and care for each other and with then standing off a little more in these early stories it adds to the humor and action.
At first I was very worried that it was going to be a straight up retelling of the first 3 or 4 episodes of the TV series, but to my surprise things changed quickly and new bad guys were introduced that ended up becoming the focal point for the group. It also really highlights the comedic aspects to the hero's themselves and just doesn't center on Tiger as the overall buffoon.
Overall Grade: B+
I am a fan of Tiger and Bunny and hop that maybe this film allows other to get a taste of the series that will make them want even more. It is a truly fun and imaginative show that is more than a overbearing moral action/comedy. Be sure to give this one a chance, I think you will like it.