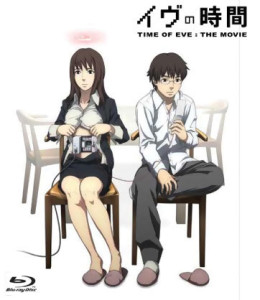 Title: Time of Eve
Director: Yasuhiro Yoshiura
Writer: Yashuhiro Yoshiura
Music By: Tohru Okada
U. S. Distributor: PIED PIPER
U. S. Release Date: Nov. 15th, 2014
Format: Blu-ray / Feature Film / 106 minuts
Genre: Sci Fi, Drama, Slice of Life
Age Rating: Not Rate, but would be TV 14
Overall Personal Rating: A
"Did you enjoy your time at Time of Eve?"
Synopsis:
Influenced by the Robot Ethics Committee, it's become common sense for people to treat androids like household appliances. Their appearance – indistinguishable from humans except for the ring over each android's head – has led some people to empathize unnecessarily with androids. Known as "android-holics", such people have become a social problem.
Rikuo, a high school student, has been taught from childhood that androids are not to be viewed as humans, and has always used them as convenient tools. One day Rikuo discovers some strange data in the behavior records of his family's household android, Sammy. Rikuo and his friend Masaki trace Sammy's movements, only to discover a mysterious cafe that features a house rule that "humans and robots are to be treated the same"…
Commentary:
Each year there is always one film or series that captures the best qualities in the artistry know as anime. Time of Eve brings something very special to the genre that transcends the world of animation. I know this is high praise for just a movie, but we have all see plenty of shows that take on the question of how far Artificial Intelligence will go. Time of Eve does something a little special with that and it manages to leave the viewer with the ability to judge that for themselves. It does manage to get a little sentimental at the end and play on some base emotions, but for the most part the questions being raised are necessarily define and give a full moral imperative. The question still remains in the end, are they machines or something else with a definite slant in one direction.
I have always loved these type of cerebral shows that take the premiss and write something very special around it. I also think that half of the success is the animation of the story. On one hand it is clean and crisp but at times the somewhat, almost cliché quick movement of the camera becomes a little herky jerky that adds to the experience. There was a time when you were give the perspective of the character and force to feel like they were being forced to move their heads quickly that I couldn't stand the thought that anyone believed that our minds eye really sees things that way. For Time of Eve I don't see it as something unnatural, but rather a device that adds flavor and movement to the show.
The writing brings the story home and manages to set each character up with enough mystery that you never really know what they are thinking. I guess that I would have like to have a little more closure in the story, but the dialog and the plot movement was superb and not too heavy handed.
Overall Grade: A
I would have liked to give this an A+ but with it being so short and basically leaving us with no closure I have to know off a little. If you see only one new anime this year Time of Eve should be it. I think you will find it as enjoyable as I do.