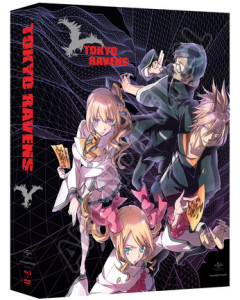 Title: Tokyo Ravens season one part 1
Director: Takaomi Kansaki
Creator:  Kohei Azano (Light Novel)
Anime Writer: Hideyuki Kurata
Studio: 8-Bit
U. S. Distributor: Funimation Entertainment
U. S. Release Date: April 7th, 2015
Format: DVD / Blu-ray / 12 Episodes / 300 minutes
Genre: Supernatural, Action, Adventure, Romance, Harem
Age Rating: TV 14
Personal Rating: B
Synopsis:
Harutora may seem like an ordinary guy, but he's actually a descendent of an ancient and powerful clan of onmyouji. Born without the family talent for magic, he'd always believed he was destined for a normal, boring existence. All that changed the day Natsume, a beautiful face from Harutora's past, barged back into his life and forever altered the course of his future. When her sudden arrival leads to a violent and tragic encounter with a magical prodigy, Harutora agrees to fulfill a childhood vow by accompanying Natsume to the clandestine Onmyo Academy. Together, along with their incredible onmyouji classmates, they'll attempt to survive life at a school where not even magic can get you out of your homework.
Commentary: 
Tokyo Ravens is being marketed as one of this years best kept secrets, but I wouldn't go that far. Much of the series reminds me of other mainstream series that give us the struggling hero who wants nothing more to do than hang out. I see him as a Neet who is has a destiny. The real question is what his he really. I have a feeling that there is a big twist about him and a tiger as the series unfolds. I found Tokyo Ravens season 1 part 1 to be rather pedestrian in the overall feel and development of the story. It reminds me of the let down that Guilty Crow ended up being. I just hope that part two takes us to another level. The basics are there for something good and maybe svn great. I would like to see most of the comic relief to be set aside and let the real drama unfold.
The attention to the comedy was too prevalent and it gets in the way of the story that needs to be told. I can't say that I like the introduction of Kon. Sure she is cute and silly, but the character is not much help and in face she gets in the way of the deeper story development. There are 2 extras where she explains some of the basics about the world of Tokyo Ravens and even though her voice and mannerisms are a tad silly the information is worth while.
Overall Grade: B
Tokyo Ravens is a standard shonen with a harem feel that plots the hapless hero who doesn't seem to understand anything as potentially the key to it all. I do like the plot and where the story is headed, I am just worried that the silliness that overwhelmed the first 12 episodes will continue. I would have like to see a more dramatic slant to the series. What happened to the days where action series carried a serious dramatic flair like Darker Than Black or Black Lagoon. I'm not asking for over the top violence just a more serious approach to the characters and overall story.
I was not completely disappointed by Tokyo Ravens. There is plenty to enjoy. The animation and production is great and some of the english voice acting is really superb. I thought that several of the characters were given a depth and feel that makes them easy to support and connect with. There is also are clear development of a twist on the way. I just hope we get to see it.
If you liked Guilty Crown, C (Control) or even Unbreakable Machine Doll then you will enjoy Tokyo Ravens. I am looking forward to part 2 and really hope that it takes the series in a more dramatic direction.