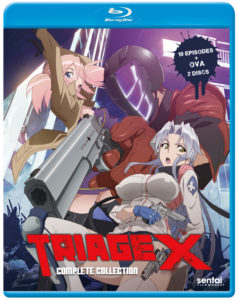 Title: Triage X: Complete Collection on Blu-ray
Directors: Akio Takami, Takao Kato
Music: Makoto Miyazaki
Studio: Xebec
U. S. Distributor: Sentai Filmworks, Section 23
U. S. Release Date: Jan. 24th, 2017
Format: Blu-ray / 10 Episodes + OVA / 275 Minutes
Genre: Drama, Action, Extreme Fan Service, Harem
Age Rating: MA for nudity and violence
Overall Personal Rating: C+
Synopsis:
Our society is infected with a disease, a gangrenous cancer in the form of those who commit the most monstrous of evils, yet whose power and influence place them beyond the reach of the law. When corrupt politicians fail to act and the police seem helpless, there is a third, secret option that stands ready to excise the malignancy in a tactical surgical strike: Black Label, a dedicated team of doctors, nurses, and students who moonlight as an elite team of assassins.
With the world's deadliest nurse, a master swordswoman MD, an idol with an affinity for explosives, and a pair of seemingly indestructible high school students, their mission is as simple as it is deadly: identify the drug runners, terrorists, and criminal masterminds who can't be destroyed any other way, and then eliminate them by whatever means necessary in TRIAGE X!
Special Features: Interview with Kenji Akabane and Yuri Kondo, Japanese Promos, Clean Opening Animation.
Commentary:
Oh my goodness, Triage X takes you straight to the fan service and nudity. There is no attempt to hide the intent there is just a blatant explosion of nude women on the scene. The fact that there is a serious drama included kind of gets in the way of large breast bouncing across the screen.
My first thought was that someone took the heavy drama as seen in series like Darker Than Black or even Black Lagoon and mixed it up with Sekirei or even Tenjou Tenge.  After few episodes I realized that the plot was only secondary to the fan service and it became almost meaningless that they were unabashed vigilant. This is where the plot broke down for me. I really wanted some meat with these bones, but that just wasn't meant to be.
Overall Rating: C+
You might think that I would have given this a lower grade and maybe I should. Honestly, I can see where it was true to its nature and audience. The target audience is the male 18 to 29 year old group and everything you expect from one of these series in piled in. There is a serious drama that provides plenty of girls with guns and a very sympathetic male lead character with a overabundance of nudity.
I typically am not a fan of these type of series but do love a solid girls with guns show. Triage X provides the excitement that goes with a serious girls with guns even if their breast to tend to overshadow the plot and action. The other shinning point of the series has to be the animation. It is high quality and it was easy to tell that the animators enjoyed what they were doing.
In the event that you are looking for a action packed series with an overdeveloped fan service quality then you will find Triage X the series for you.