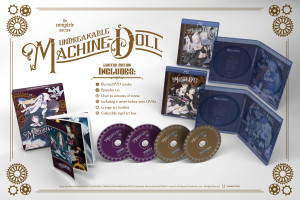 Title: Unbreakable Machine Doll 
Director: Kinji Yoshimoto
Original Story: Kinji Yoshimoto
Anime Writer: Yuko Kakihara
Studio: Lerche
U. S. Distributor: Funimation Entertainment
U. S. Release Date: March 3rd, 2015
Format: Blu-ray / DVD/ 12 episodes and 6 OVAs / 390 minutes
Genre: Echii, Action, Fantasy, Romance, Harem, Moe
Age Rating: TV MA
Overall Personal Rating: B
Synopsis:
Raishin Akabane and his beautiful companion Yaya enroll at Walpurgis Royal Academy to study Machinart: a dangerous blend of magic and technology. Raishin is a puppeteer capable of using magic to power up Yaya, his automaton, for ruthless battles no mere human could survive.
In the wrong hands, Yaya is a deadly weapon, but the honorable Raishin, despite his mysterious quest for vengeance, takes no pleasure in killing for sport. Instead, he joins forces with a harem of gorgeous classmates to unmask those responsible for a rash of heinous human experimentation. If new enemies and terrible grades don't spell doom for Raishin, he and Yaya might live long enough to conquer the school where magic meets machine!
Commentary:
Unbreakable Machine Doll followed a week worn path of magic users and the vessels that they use to wield their magic. At times I could feel the series channeling Harry Potter and at other times it felt more like Madoka Magica. None-the-less it still had the impact that I'm sure it was after.
From the very opening I knew this wasn't going to be a simple magic users series, it was really going to be about the fan service and how often they can play off other sexual tension created between Raishin and the other women in his life. Not to mention his magical doll/weapon, Yaya.
Over the course of the 12 episodes I saw the plot develop and strengthen to appoint that made me some what sad that the series relied on sex appeal to draw in the viewers. There is enough story here without having Yaya take her cloths off and try to bed Raishin every other episode and to then present one character that for all of her innocence she still manages to make her breast more prominent than her sweet character. It almost pained me to watch the story unfold through the bouncing bounty that crosses the screen.
Overall Grade: B
For as much as I thought the breast parade got in the way there was still a plot line that was coherent and impelling. I really want to see Raishin grow in strength and come to the point where he faces his brother in battle and also manage to weed out the unethical magic users that wish to become god. I see Raishen and Yaya as something else that manages to elevate themselves above the shackles of lust and greed to help the other discover their own goodness. Unfortunately, this side of the story is not given the ability to grow and prosper and we are left with just another echii series that leaves us wanting for more.
Unbreakable Machine Doll not only has potential to be a fun series to watch and own, but it could have finally brought the two worlds together in a way that justified the silliness that goes on in each episode and the lack of completion that is yet to follow.
I sincerely hope that the funding is found to help complete this series and bring this potentially epic story to an end.
Extras:
Along with the 12 episodes there are also 6 OVAs. Now it has been know that sometimes the OVAs manage to pick up where the series left off, but in this case they follow the other age old path of just being silly reasons to show off the characters boobs. I was really hoping for some closure, but alias not this time.