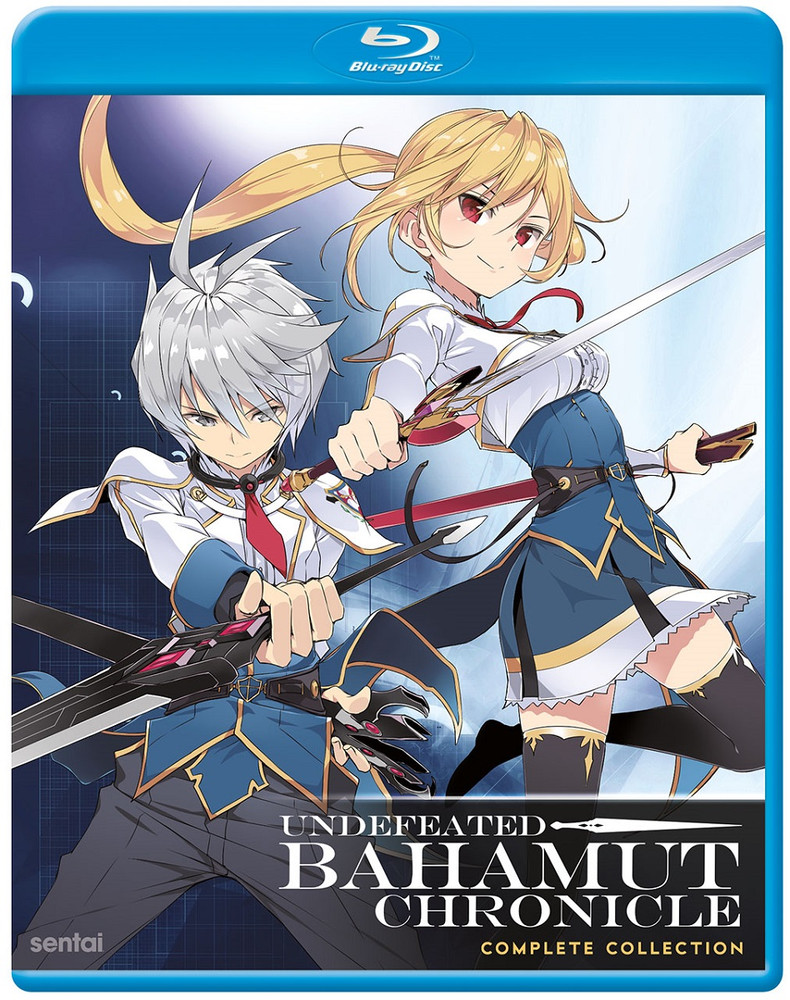 Title: Undefeated Bahamut Chronicle: Complete Collection
Director: Masaomi Ando
Anime Writer: Yuuko Kakihara
Music: Akito Matsuda
Studio: Lerche
US Distibuter: Sentai Filmworks, Section 23
US Re-Release Date: Aug. 4th, 2020
Format: Blu-ray / 12 Episodes / 300 Minutes
Genre: Fantasy, Fan Service, Action,, Mecha
Age Rating: MA 17+
Personal Overall Grade: B+
Synopsis:
The Royal Knight Academy was established to train the heirs and scions of the lands how to fight using the ancient mechanical dragons known as Drag-Rides. Those noble intentions, however, go royally astray when Lux, deposed prince of the Arcadia Empire, accidentally stumbles upon the Kingdom of Atismata's new Princess Lisesharte in her royal bath and sees altogether more than he should have.
Challenged to a Drag-Ride duel when the Princess bares her anger, Lux finds himself thrust into a series of events that could ultimately expose the darkest secrets of both their royal families! Now, whether he wants to or not, Lux will be spending his time fighting monsters, corruption, and the attentions of his female classmates, both lethal and otherwise!
Commentary:
Well that genre that is all aboout sudo mecha anime that is really a simple harem has a new star. The Undefeated Bahamut Chronicle has it all. A somewhat naive protagonist who is much more powerful than any expects and a full line of young women who fall in love with him. Honestly, I really like Lux, he his a lot more than the naive leed male character, he is a likeable guy who is placed in a awkward place where he has to do something very special and he manages to get us were we want to go.
Overall Grade: B+
Undefeated Bahamut Chronicle is a winner in my book. The only issue I really have is its narrow adherence to the mecha harem genre. I thought the writers did a great job of creating some characters you like and somewhat care about. Lux is by far the strenght to the series and it is great to see a leeding male character that is both solid and vulnerable at the same time. The rest of the female characters are also very strong and interesting.
So, if you are looking for a fun and entertaining harem mecha then Undefeated Bahamut Chronicle is for you,]. If you haven't seen it then you should take the opporunity to sheck it out. Be sure to give it 4 to episodes to get the real feel of the serie.