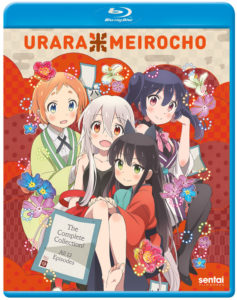 Title: Urara Meirochou the Complete Collection on blu-ray
Director: Youhei Suzuki
Writer: Deko Akao
Studio: J. C. Staff
U. S. Distributor: Sentai Filmworks, Section 23
U. S. Release Date: April 17th, 2018
Format: Blu-ray / 12 Episodes / 300 Minutes
Genre: Comedy, Fantasy, Slice of Life
Age Rating: TV 14
Overall Personal Rating: B+
Synopsis:
Chiya was raised in the woods and most of her friends were animals. But now she needs to find something, and since it may take the skills of an Urara, or fortune teller, to find it, she's come to the town of Meiro-cho to learn to become an Urara herself.
It won't be easy adjusting… and not just because Chiya still tends to check to see if people have tails or want their tummies rubbed! But the other girls studying at the Natsumeya teahouse are all unusual in their own ways, and it's clear from the beginning that Chiya's going to be great friends with studious Kon, rambunctious Koume and shy Nono. And that's good, because if Chiya's going to find her missing mother, she'll need all the help and support she can get!
Commentary:
Urara Meirochou the Complete Collection is one of the cutest anime I have see in some time. each of the characters, especially Chiya, steals your heart from the very first episode. Like most of these slice of life anime the girls are easy to connect with and their personalities are also obvious from the very start.
There is a solid plot and with the humor of the naive young ladies and the weird world they have entered the series doesn't have to be long to be good. There are plenty of small twist along the way with an overwhelming splash of silly playful humor to keep the viewer tagging along for all 12 episodes.
Overall Grade: B+
The one thing that Urara Meirochou has going for it is the solid animation. The production really matched the feel of the series rather than try to push a false dynamic. The look adds to the feel good aspect of the series and also provides for a soft easy flow.
The real strength of the Urara Meirochou the Complete Collection is the simplicity of the story and the warmth of the characters. Having each of them with sweet unassuming nature and a rather naive approach to life allows the story to give plenty of humor and happiness to the time spent watching.
Bottom line is if you are looking for some light sweet entertainment then Urara Meirochou the Complete Collection is the cure for you.