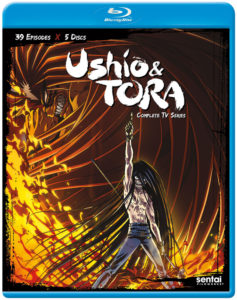 Title: Usher and Tora: Complete Collection on Blu-ray
Director: Satoshi Nishimura
Studio: MAPPA, Studio VOLN
U. S Distributor: Sentai Filmworks, Section 23
U. S. Release Date: Aug. 29th, 2017
Format: Blu-ray / 39 Episodes / 975 Minutes
Genre: Supernatural, Shonen, Drama
Age Rating: MA
Overall Personal Rating: B
Synopsis:
Ushio always ignored his father's crazy tales about the temple where they live. All that talk of restless souls and vicious monsters are nothing more than stories, right? However, Ushio quickly rethinks his position when he discovers a locked basement with an actual demon pinned to the wall by a spear! The tiger-striped demon threatens to eat Ushio if he doesn't free him, so Ushio naturally chooses to ignore him. However, when the demon's presence starts to attract others, Ushio is forced to remove the spear to save himself. To make a bad situation even worse, freeing the demon, Tora, also bonds Ushio to the cursed Beast Spear, sending him on a journey where unspeakable dangers await. The battle is only beginning for these unlikely partners!
Commentary:
In today's environment to see so many older series being brought forward and rereleased and not being brought up-to-date makes Ushio and Tora a real unique entity. This series from the early 90's has been given a new lease on life and even expanded. It is a major plus to see this revisiting of interesting series and even becoming a current hit for the strength of the story.
As for Ushio and Tora I found the story to be too episodic much the way Yu Yu Hakusho  seemed to be focus on simple battles. I think that is where Ushio and Tora looses me. The area it manages to keep me involved is the relationship that is developed between Ushio and Tora.
Overall Grade: B
I wish I could have given Ushio and Tora a higher grade, but I just got worn out by the simplicity of the story line. I do see it as a series that most seekers of action would like and the with it having 39 episodes manages to give everyone plenty to enjoy. The updated animation is strong and fluid enough to make it easy to watch and stay focused on the story and battles.
I realize that there are a great history of episodic series that are only about the battles and Ushio and Tora is not different except for the fact that it becomes a little more tiresome than some of the others. I don't see it finding it's way into the hearts and minds of the fan base like Yu Yu or Dragon Ball Z and that is because of the Mature Audiance rating. I think that if the violence would have been reduce down to a 13+ rating there might be a greater fan base to find and a way to secure a more sustained group of followers.
If you are looking for a solid battle anime then Ushio and Tora is one you need to pick up. It is great to see older series getting a true new lease on life.