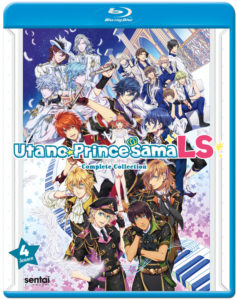 Title: Uta no Prince-Sama Legend Star Season 4 on Blu-ray
Director: Takeshi Furuta
Writers: Tomolo Konparu, Sayaka Konno
Studio: A-1 Pictures
U. S. Distributor: Sentai Filmworks, Section 23
U. S. Release Date: April 3rd, 2018
Format: Blu-Ray / 13 Episodes / 325 Minutes
Genre: Reverse Harem, Musical Slice of Life
Age Rating: TV 14
Overall Personal Rating: B
Synopsis:
Uta no Prince-Sama: Legend Star contains episode 1-13 of season 4.
The contest to become the opening group for Triple S may have been shaken up by the arrival of the now seven-member group HEAVENS, but QUARTET NIGHT generously declines to take advantage of the decision in their favor… as long as the other two bands agree to an unexpected new phase of the competition!
Are the other two rival groups ready for a new series of cross-band duets, with each song pairing one member of STARISH and one member of HEAVENS? Will Haruka be up to writing yet another round of spectacular songs? It's time to pick up the tempo and sing to the balconies as the musical one-upmanship only gets wilder!
Commentary:
I never really minded reverse harem anime and I must say that I found the first few seasons of Uta no Prince Sama a little more entertaining than most. Season 4 Legend Star manages to fill some of the requirement and also left me a little flat at times. I guess that it really all comes down to the music with Uta no Prince Sama and for this season I just didn't connect the way I had hopped to. It was still very happening and if this genre of music is your bag then you will be up dancing your heart out.
Overall Grade: B
With all the drama and competitive vibes going on I believed that Legend Star would have given me more. It is clear that the series is a real hit in Japan and it clearly has its following her in the states, but it is very possible that these types of bands just don't have the staying power in the west the way they do in the east.
I will say that the animation, writing and storyline manage to prove very adequate and fluid. The production values are by for the strong point followed by the writing. The story is rather basic and shouldn't be a surprise to anyone.
Uta no Prince Sama Legend Star keeps things rolling but also left me sitting way to still for the 13 episodes. I realize that I am not the target audience and that the true believers will love every minute. If you are looking for a boy band reverse harem that has some lively music the the Uta no Prince Sama series is for you. If you haven't seen any before then I would suggest starting at the beginning with season 1 and working your way over to season 4. If you are already into Uta no Prince Sama then you are ready for season 4 and please move straight ahead.