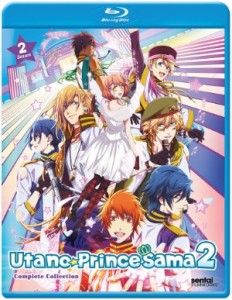 Title: Uta no Prince Sama Season 2 (maji LOVE 200%)
Director: Yuu Kou & Yuki Ukai
Music: Elements Garden
Studio: A-1 Picutres
U. S. Distributor: Sentai Filmworks / Section 23
U. S. Release Date: Aug. 26th, 2014
Formt: Blu-ray / 13 Episodes / 325 Minutes
Age Rating: TV 14
Genre: Romance, Harem, Idol, Comedy
Overall Personal Rating: B-
Synopsis:
After the amazing high note that capped the first season, would it be fair to expect Haruka and her hunky harem of beautiful boy singers to be able to top themselves? What if they had a little more help? Yes, believe it or not, now there are even more gorgeous guys lining up for the attention of the song-mistress!
Fortunately, since she's moved into the dorms Haruka's available for even more music making. Only now StArish has some real competition, as the new golden-throated warblers from the Senior Master Course make it their job to show the first six what it really takes to become a J-Pop star. And what about that mysterious seventh member of StArish? He's back as well in his own catty fashion! But does he plan to take Haruka to fantasyland? Will the boys get kicked to the street if they can't stay in sync? And will Haruka stay composed and keep composing when the sophomore slump hits her writing?
Commentary:
Uta no Prince Sama season 2 surely takes of where season one began. With it being based on a visual novel / game it clearly carries with it the personality of a product make for the female early to mid teem market. Pop music with the heavy sexual and romantic overtones that only romantic daydreaming young ladies might enjoy. It was decently made for my market (middle age male). With that in mind I tried to approach this series with the mindset of someone who would really enjoy it and be looking for this kind of action. The character development does help make the boys somewhat more romantic and provides a personality for everyone to latch on to. The role of Haruka on the other hand comes across a little flat and more than just naive, she is exceptionally dim from time to time. I not sure it is just that she is so wrapped up in her single minded goal of becoming a great composer or rather it was the intent of the creators to make her this way as to not interfere with the fans attachments to the boys. No matter what the cause I really found Haruka to be a though away character which made the series somewhat lack luster for me.
It is very obvious that the music and the boys are at the center of things and yes the music was really the star. I can see why the series found its place and how it built a fan base. The music is catchy and rather sappy which make for great pop hits. LOVE 2000% is just as silly a sentiment as the purely romantic ideal that love will concur all. It is at the core of all of the tween pop hits that have every made it the chart toping hits. I know, I know, the music in uta no Prince Sama are not chart topers and will never be, but the ideal projected by the series is 1000% percent correct. It is all about the heart when it come to a highly romantically inclined young woman.
Overall Grade: B-
I have to hand it to the thought processes put into the series and the effort put toward creating the music, but I still came out of this feeling a little disappointed. I get that this series is really about the tween culture and their love of pop idol music, but I also felt like there was too much played on and Haruka's character was really left in the dirt to rent for herself. Maybe just maybe, if I was a 12 year old girl dreaming of becoming a great composer of boy band music I would find this a home run, but alas I am not and find it hard to stand up and applaud uta no Prince Sama for its efforts.  Anyway, don't take my word for it, you can always check it out for yourself. You just might find me wrong.